The NACA Reach UR Life Team is excited to begin providing Cultural Wellness activities to the community! The first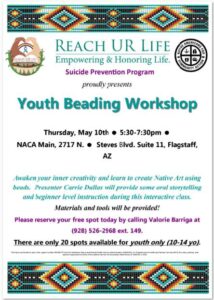 event will be a Beading Workshop for Youth facilitated by Carrie Dallas on May 10th, 2018 from 5:30-7:30pm. Space is limited to 20 for youth only (10-14 years old), so please reserve your spot as they expect this class will fill up fast! Those interested will need to call Valorie Barriga directly at (928) 526-2968 ext. 149.
Awaken you inner creativity and learn to creat Native Art using beads. Carrie Dallas will provide come oral storytelling and beginner level instruction during this interactive class.
Materials and tools will be provided!
Where: NACA Main
2717 N Steves Blvd. Suite 11
Flagstaff, AZ