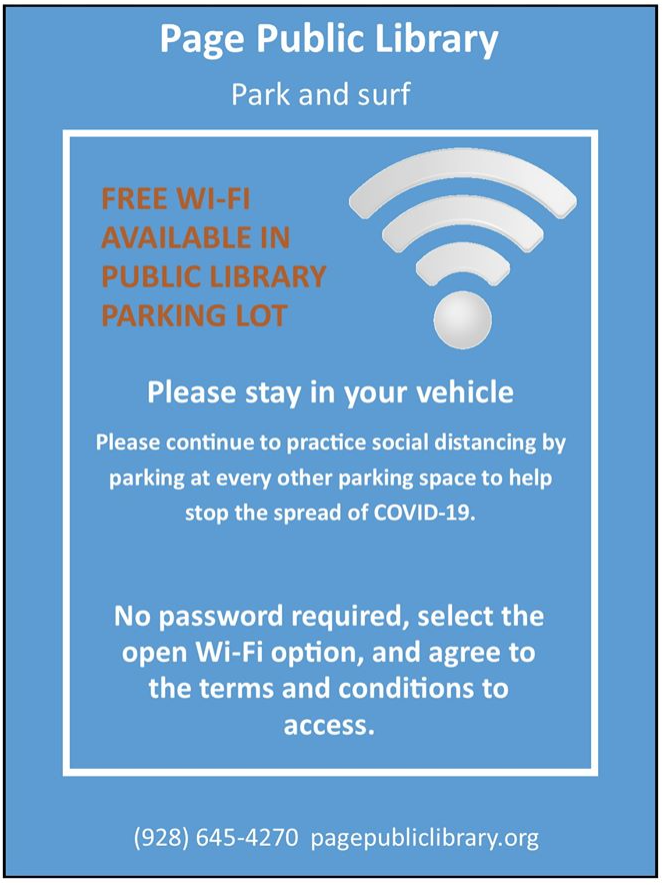 COCONINO COUNTY — A variety of free Wi-Fi locations have been opened in Coconino County to help students continue their education in the region. They include locations in Flagstaff, Page and the Navajo Nation.
Please check out the Flagstaff Public Library's map of Flagstaff Free WiFi Locations and share with your clients. You can click on a location to view the WiFi name and logon information, including tips about getting the strongest signal. These WiFi locations are free and open to all and were field-tested to verify that a strong WiFi signal is accessible from outside. Please contact us at flagstaffpubliclibrary@gmail.com with questions or suggestions for additional WiFi locations.
***
Coconino County has installed a Wi-Fi hotspot allowing residents of Page and the surrounding areas to access internet without charge.
The hotspot is located between the Coconino County Health and Human Services Northern Region Office and Page Magistrate Court buildings at 467 Vista Avenue. A map is attached. Internet access is available throughout the entire parking lot and residents are encouraged to stay in their cars and practice social distancing. The network does not require a password and is named CountyWiFi.
"Broadband and internet connectivity are crucial to connect residents to work and school," said Coconino County Supervisor Lena Fowler. "Many parts of our county do not have quality access to a broadband connection. Providing available and free internet access will allow the residents of Page and tribal communities to connect with job-seeking resources and focus on schoolwork during this difficult time."
Northern Arizona University has also installed Wi-Fi hotspots for students to use throughout the Navajo Nation and Hopi Reservation. For more information on Northern Arizona University's Wi-Fi hotspots please visit www.nau.edu/access.
***
Free Wi-Fi is also available in the Page Public Library Parking Lot.
Please stay in your vehicle. Please continue to practice social distancing by parking at every other parking space to help stop the spread of COVID-19.
No Password required, select open Wi-Fi option, and agree to the terms and conditions to access.
Call 928-645-4270 or visit pagepubliclibrary.org for more information.
***
Northern Arizona University has created Wi-Fi hotspots on the Navajo and Hopi reservations to help students continue classes, according to a story in the Navajo-Hopi Observer.
More information is available at www.nau.edu/access or call the Office of Native American Initiatives at (928) 523-3849.
Wi-Fi parking lot Hotspot locations (K12, college and HTUA):
Chinle
NTUA Chinle District Office, across from Bashas', east side of Hwy 91
Dilkon
NTUA Dilkon District Office, half mile north of Bashas', Hwy 60
Diné College (Request access at Officeofthepresident@dinecollege.edu):
Tsaile
Tuba City
Window Rock
Chinle
Crownpoint
Shiprock South
Fort Defiance
1.Good Shepherd Mission
1 Kit Carson Dr.
NTUA Headquarters, East of Tsehootsooi Medical Center, off of Route 12
Holbrook, Arizona (available April 20):
Holbrook High School, 455 N 8th Ave
Holbrook Junior High School, 412 W. Buffalo St
Hulet Elementary, 600 Buffalo St.
Park Elementary, 453 N 7th St.
Indian Wells Elementary, State Hwy 77, Indian Wells
District Office, 1000 N. Ave.
Hopi Nation
Peace Academic Center – UA Cooperative Extension Office
1 Hopi Mission School Road
Polacca Community Center, Village of Tewa
Navajo Technical University:
Crownpoint
Chinle
Tuba City
Tuba City Chapter House
220 S. Main Street
Window Rock
Library and Museum
Information provided by NAU