Join We Run, the Moenkopi Development Corporation and Wings of America for the Second Annual Runner's Forum. A FREE Runner's exposition will be held at the Moenkopi Legacy Inn in Tuba City on Friday, January 3rd at 8:30 a.m. through Januray 5th at 4:00 p.m. This will include a day-long youth workshop for aspiring student-athletes, booths (set up with information and running apparel for sale), a screening of the documentary "Run to the East", and the Lunar Run.
Saturday and Sunday will continue with inspirational and informational presentations from a wide variety of Native and non-Native coaches, athletes and professionals.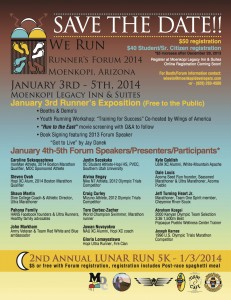 CONTACT:
Wendi Lewis
(928) 283-4500
wlewis@moenkopidevelopers.com
MORE INFORMATION CAN BE FOUND HERE!
Category: General