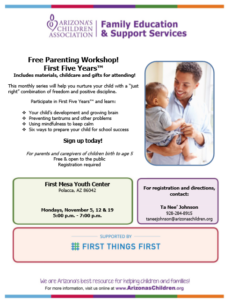 Free Parenting Workshop! First Five Years. Includes materials, childcare and gifts for attending!
This monthly series will help you nurture your child with a "just right" combination of freedom and positive discipline.
Participate in First Five Years and learn:
Your child's development and growing brain
Preventing tantrums and other problems
Using mindfulness to keep calm
Six ways to prepare your child for school success
Sign up today! For parents and caregivers of children birth to age 5. Free and open to the public. Registration required.
When: Mondays, November 5, 12, & 19
5-7pm
Where: First Mesa Youth Center
Polacca, AZ 86042
For registration and directions, contact: Ta Nee' Johnson at (928) 284-8915 or taneejohnson@arizonaschildren.org.
Category: Educational Opportunities, Events, Programs, Resources