Presented by Killip Elementary School and Girls on the Run of Northern Arizona at Coconino High School
Saturday, April 29, 2017 8:30 am – 11:30 am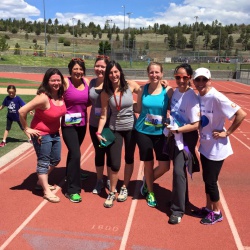 Please join Killip Elementary School and the Northern Arizona Girls on the Run for the Fourth Annual Killip Kindness 2k/5k run/walk. The race will be on Saturday April 29th at the Coconino High School Track. Race time begins at 9:30 am but there will be family-friendly activities starting at 8:30 am and ending at 11:30 am. A number of community organizations will have informational booths and activities at the event and post-race snacks will be available.
To pre-register and purchase a race t-shirt please visit the link here
Come support the Flagstaff Community in promoting health, wellness, and an act of kindness.
Admission Info:
FREE to participate. Asking for canned food donation, toiletry donation or monetary donation to race.
$5 for race t-shirt.
Prizes for top two finishers of each race.
General Day and Time Info:
Day of Registration and pre-registration shirt pick-up begins at 8:30 am. Race start 9:30 am.
Coconino High School
2801 North Izabel Street
Flagstaff, AZ 86004