Hello,
Fostering Advocates Arizona (FAAZ) is committed to improving the lives of young people ages 14 to 26 who have been impacted by foster care. We create systems-change by sharing our experiences, developing policy and practice recommendations, educating and engaging our peers and the community, and collaborating with state agencies, lawmakers, the courts and service providers.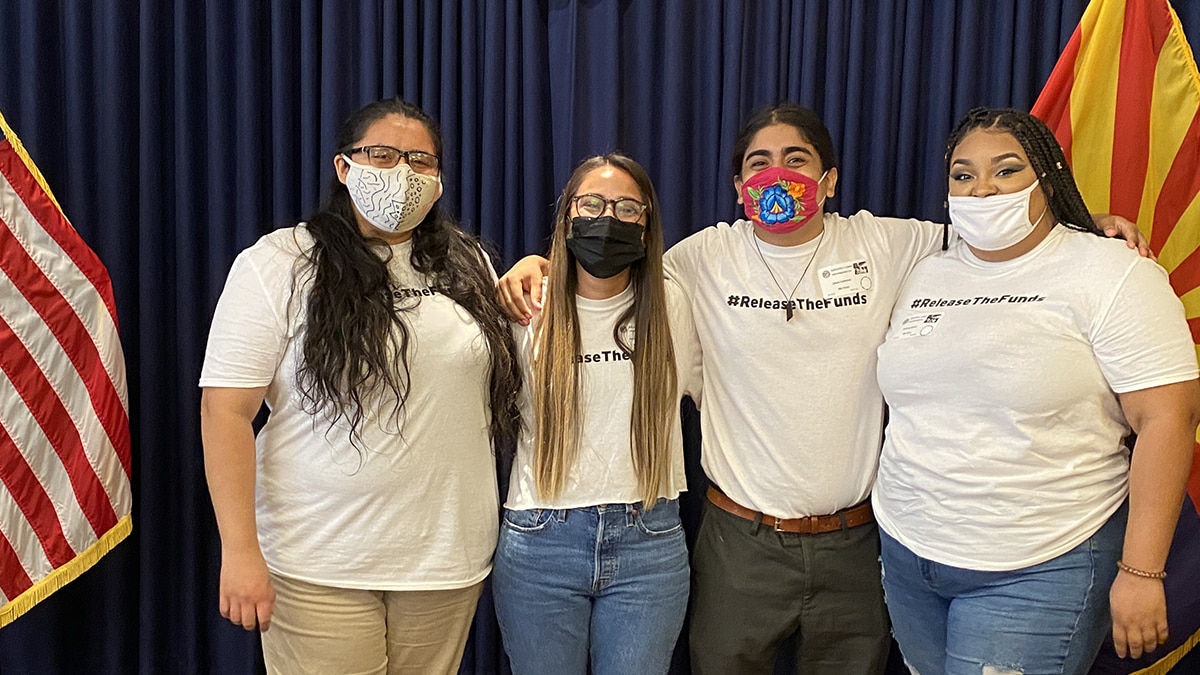 Established in 2013 and supported by the Children's Action Alliance and the Jim Casey Youth Opportunities Initiative, FAAZ has become a powerful voice and influencer. We are a diverse group of young people, age 16 to 26, with lived experience in out-of-home care, such as State or Tribal foster care, relative placement, guardianship, and adoption. FAAZ has increased access to education, employment, family connections, financial capability, healthcare, housing, and transportation for young people aging out of foster care.
OUR PRIORITIES
Involving Young Adults
Partner with young advocates
Build Partnerships & Resources
Deepen community support
Investigate, Communicate, Evaluate
Listen to youth, arm members of the community with information and track successes
Inspire Good Public Policy
If there's a state policy or a practice that's not working – it needs to change
Drive Opportunities for Economic Success
Help youth gain financial skills
Have you heard of us?
If not – it's ok – it's been a strange couple of years, but through it all we have been busy working to improve the lives of Arizona's young people. In response to the COVID-19 pandemic, FAAZ created and distributed one-pagers to help youth navigate health and finances. When Arizona received COVID-19 relief funds from the 2021 Consolidated Appropriations Act, we worked to ensure over two million dollars was distributed directly and efficiently to those who have experienced care. Over the years we have lent our voices to a number of legislative bills that have made it easier for youth to get their driver's license, to continue receiving healthcare and supportive services, and to seek higher education.
In 2022, we hope to expand our engagement outside of Maricopa County in order to better represent the needs of Arizona's foster care population. As we grow and learn, if you have a contact, an idea, or a resource on your mind that should be on ours too – please, let us know at FosteringAdvocatesAZ@gmail.com With the support of each of you, we will continue to find gaps and work to address them.
Want to Get Involved?
We are always seeking champions to join us in advocating for young people aging out of foster care. Here's how you – or your organization – can get involved:
For nearly a decade, FAAZ has been led by the voices of dedicated youth determined to create meaningful change. If you find our work important – like we do – then we ask that you show your support: Become a FAAZ Champion by signing up for our E-News. Thank you for your support as we look forward to the future!
Consider making a donation today!
Make sure to check us out on social media!
Instagram: @fosteringadvocatesarizona
Twitter: @FosteringAdvAZ
Facebook: @fosteringadvocatesarizona
TikTok: fosteringadvocatesaz
Fostering Advocates Arizona is a project of Children's Action Alliance.
Category: Advocacy, Child Welfare, Programs, Resources