FLYRS High School Cyclocross Starts This Wednesday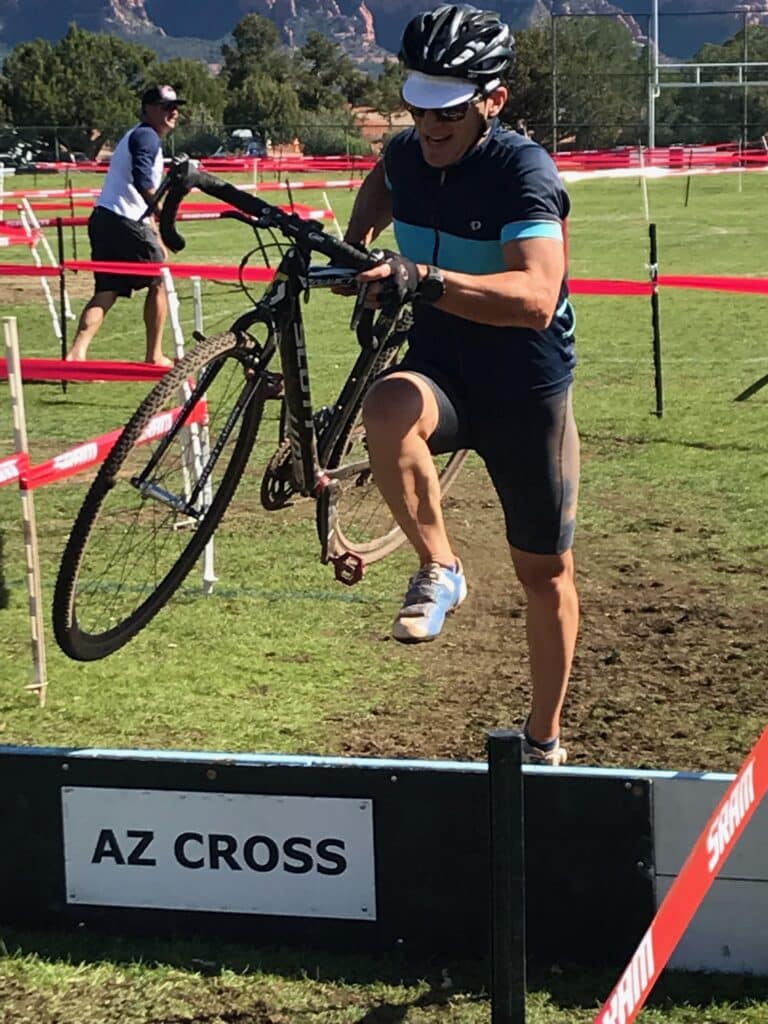 Join Coach Andrew in our inaugural Cyclocross (CX) program. This group will be only 4 weeks to get our feet wet in the CX world.
This group will act as both an introduction to cyclocross skills and CX race prep for all levels. Each week riders will focus on 1-2 skills and different aspects of cyclocross. This will be built upon by practicing additional skills and training every week that will conclude with racing a CX course on our last practice! Whether your child races cyclocross or not, this training can help improve many skills associated with all types of biking as cyclocross is a blend of speed, strength, bike handling skills, and can increase comfort on the bike. It's also just plain fun which is what FLYRS is all about.
What is Cyclocross? CX Races typically take place in the autumn and winter consisting with many laps of a short 1.5–2 mile course featuring pavement, wooded trails, grass, steep hills and obstacles requiring the rider to quickly dismount, carry the bike while navigating the obstruction and remount. The origin of CX has many different stories with a popular version being that Tour de France racers would try to stay in shape during the cold winter months by racing each other to the next town over from them by cutting through farmers' fields, over fences, or take any other shortcuts in order to make it to the next town first. It's basically just a different way to have some off road fun on the bike with some challenging conditions and weather.
FLYRS Online Auction Opens November 25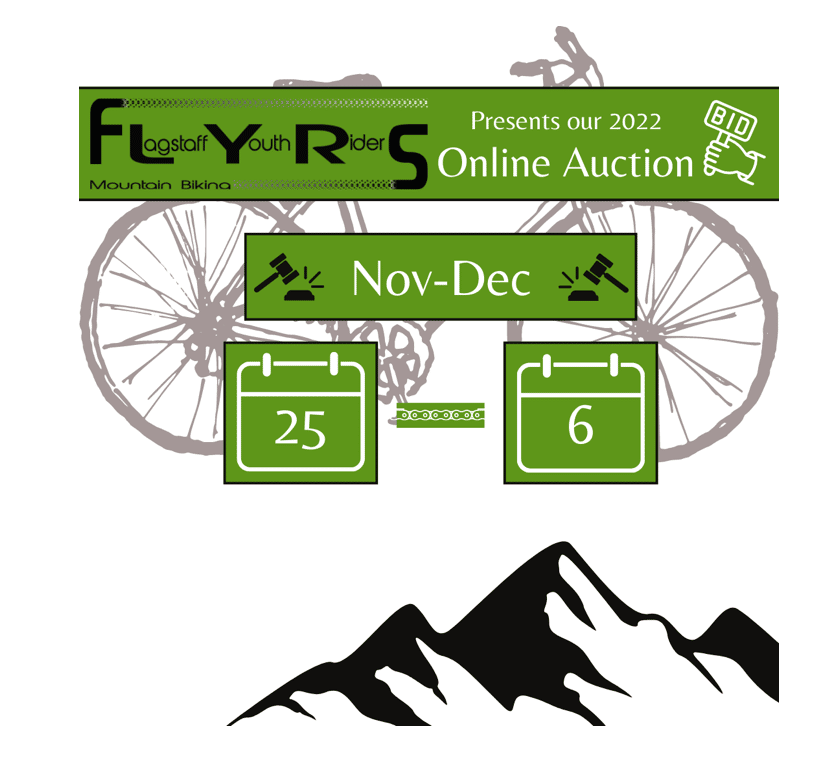 FLYRS Online Auction is coming soon. Bidding opens November 25th and runs until December 6. This is our fundraiser to provide scholarships and pay for a new van that'll whisk kiddos away on epic mountain bike adventures! Bid on sweet stuff such as: AZ Snowbowl Season Pass, numerous different race entries, gift certificates, Sedona mtb festival, bike tunes & suspension service packages, gift packs, and more. Buy cool stuff and support FLYRS to develop resilient, caring, and growth oriented youth through mountain biking
We are looking for artists, skills, businesses with products and/or services, and any other unique ideas for our auction. If you have any items or services you would like to donate, please contact our Fundraising Manager, Cece at cece@flyrsaz.com.
FLYRS Rider Spotlight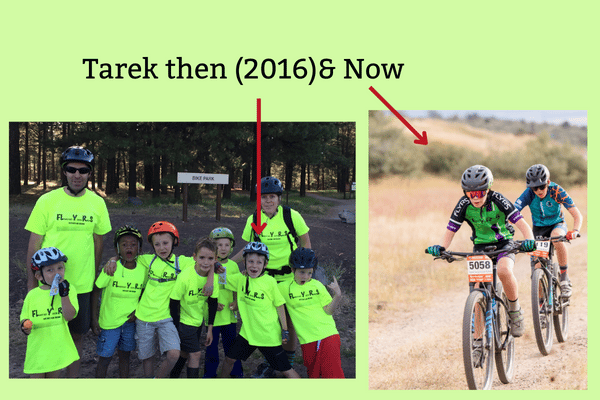 In this feature we highlight one of our awesome riders.
Tarek Nelson-Castagno – FLYRS OG rider from the first group in 2016.
Age – 13
School – Sinagua
What FLYRS program(s) are you currently in? I was on the Middle school Composite Team and the Enduro group for the fall season and I will be starting the cyclocross group this week.
What do you enjoy about mountain biking? I enjoy exploring new trails and challenging myself on different features on the trail
Favorite Trail? My favorite trail is probably Jedi or Upper Hotshots.
Do you have any favorite FLYRS memories? My favorite FLYRS memories are hanging out with the team at the races and camping. I also have good memories of some of the original FLYRS groups (riding with them and learning new things).
Where do you hope the bike takes you next? I hope the bike takes me to new trails in cool places
Fun fact about yourself? Other than bike riding in the winter, I really enjoy skiing and spend a lot of time skiing in the winter.
What advice would you give to kids new to mountain biking? Advice I would give to new people starting mountain bikes is to not get annoyed and angry about having to go uphill because the downhill is almost always worth it.
Help FLYRS and Purchase Supplies From Our Wish List
Donate specific Items from our wish list!
If you would like to donate specific items that FLYRS needs for our programs then please check out our
Amazon wish list
.
Add FLYRS to your Amazon Smile!
We hope you shop at our local Flagstaff businesses first, but sometimes Amazon has just what you're looking for when you need it. Shop
smile.amazon.com
and Amazon will donate a percentage to FLYRS at no cost to you. Click below to select FLYRS as your Amazon Smile charity of choice.
Set FLYRS to Amazon Smile!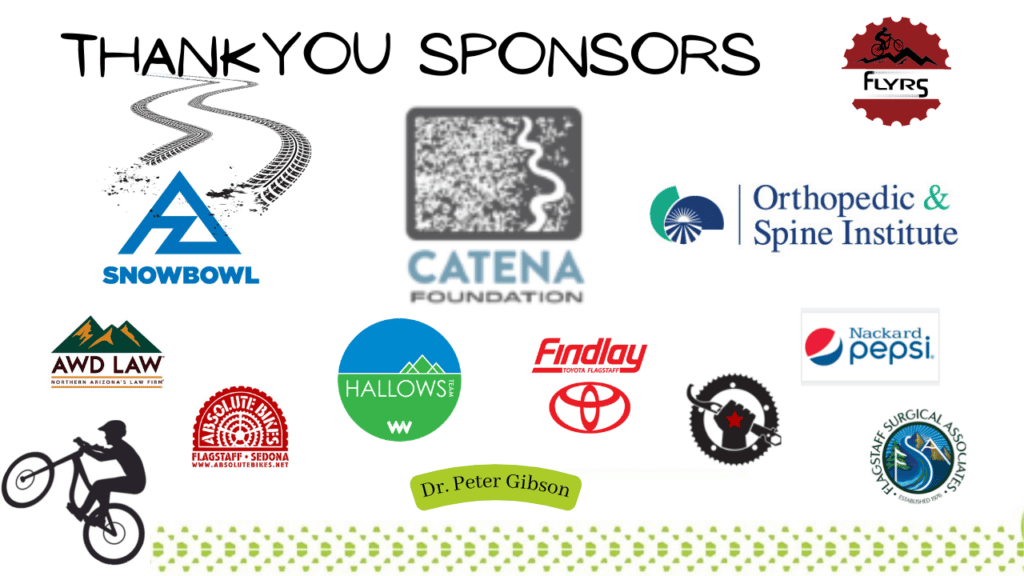 Please follow our social pages for the latest updates and sweet pictures of FLYRS kiddos riding bikes!
Ride.Connect.Smile.
Copyright © *2022* *FLYRS, All rights reserved.
Category: Education, Educational Opportunities, Health, Programs, Resources