Purchase FLYRS Ornaments at Bike Rev, Absolute, & SMR
Head down to our favorite local shops for some holiday shopping and pick up some sweet bike ornaments. Flag Bike Rev, Absolute Bikes, and Snow Mountain River (SMR) have a limited supply of bike ornaments to make the perfect small gifts.
FLYRS Rider Spotlight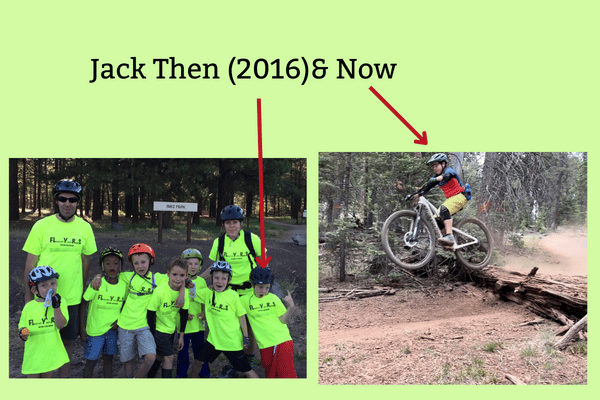 In this feature we highlight one of our awesome riders.
Jack Welsch – FLYRS OG rider from the first group in 2016.
Age – 13
School – Sinagua
What FLYRS program(s) are you currently in? I was most recently on the Composite Middle School team and the Enduro team.
What do you enjoy about mountain biking? How it feels when you bomb the downhill to finish an awesome ride.
Favorite Trail? Jedi
Do you have any favorite FLYRS memories? I enjoyed hanging out with friends at the race camp outs. I also have had great times with my Enduro coaches Nick Nation, Tate Bair, and Remi Drogi.
Where do you hope the bike takes you next? I would like to do the Can I trail without dabbing or falling. And I would like to do all of the MBAA enduro races.
Fun fact about yourself? I love to do whips and one footers on my bike.
What advice would you give to kids new to mountain biking?
Ride what you can and walk what you can't. And ride with people that are better than you to learn from them and push yourself.
Help FLYRS and Purchase Supplies From Our Wish List
Donate specific Items from our wish list!
If you would like to donate specific items that FLYRS needs for our programs then please check out our
Amazon wish list
.
Add FLYRS to your Amazon Smile!
We hope you shop at our local Flagstaff businesses first, but sometimes Amazon has just what you're looking for when you need it. Shop smile.amazon.com and Amazon will donate a percentage to FLYRS at no cost to you. Click below to select FLYRS as your Amazon Smile charity of choice.
Category: Education, Educational Opportunities, Health, Programs, Resources