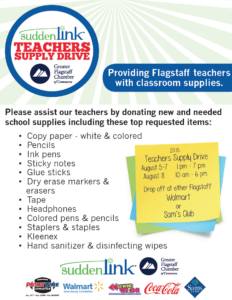 The Flagstaff Teachers Supply Drive will be held Aug. 5 through 8 at both Walmarts and Sam's Club in Flagstaff.
Sponsored by Suddenlink and the Greater Flagstaff Chamber of Commerce, the drive will be held from 1 to 7 p.m. Aug. 5 through 7 and from 10 a.m. to 6 p.m. Aug. 8, with drop off at either Flagstaff Walmart or Sam's Club.
"On its fourth year, the Greater Flagstaff Chamber of Commerce and Suddenlink strengthen their partnership to host the community-wide drive to provide much-needed classroom supplies to Flagstaff K-12 teachers at the beginning of school year," the organizations reported in a media release.
Please assist our teachers by donating new and needed school supplies including these top requested items:
Copy paper — white and colored
Pencils
Ink pens
Sticky notes
Glue sticks
Dry erase markers & erasers
Tape
Headphones
Colored pens and pencils
Staplers and staples
Kleenex
Hand sanitizer and disinfecting wipes
"As in previous years, the tremendous success of the drive is also attributed to the support of over 100 volunteers who help in many ways during the drive and distribution. The supply drive last year gathered over $40,000 in supplies and distributed to Flagstaff K-12 teachers. Teacher Supply Drive partners include Suddenlink, Coca-Cola, Primetime Athletics, and Grenax Broadcasting (Rewind 92.5/104.1)."
The chamber also conducts its Business Donor Program in which chamber members have the opportunity to Pack a Crate, conduct drive in offices/businesses, donate specific branded items, or match cash donations.
To participate in the Business Donor Program, sign up to volunteer and more info, please contact rsalas@flagstaffchamber.com