Flagstaff Public Library and East Flagstaff Community Library have released their calendar of events for the month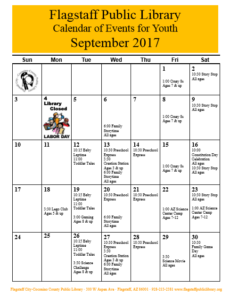 of September!
Download and print the calendars to find the best events for you and your family! There are activities such as Crazy 8s for children 7 and up, Baby Laptime, Lego Club, Crafty Corner, and Stitching by the Books. Follow the link here or click on the picture to the right to see the full calendar for both libraries.
Tuesdays during the Fall of 2017, enjoy Gaming @ Your Library for ages 8 – 18.
On September 16, from 10-11:30 AM, children of all ages can sign a replica of the constitution.
On September 22 and 23, Arizona Science Center is hosting a Science of Sports event for ages 7-12. Through hands on activities, they will learn: science is a tool that will help you advance performance in sports; athletes need to be physically fit and mentally fit to excel; athletes are supported by people in science, technology, engineering, and math; and that athletes are a diverse group of individuals. Registration is required.
On September 30 from 10:30 – 12 is Family Game Day at the Downtown Library in the Community Room. For families with children of all ages, enjoy Wii games, stories, snacks, board games, and more!