Flagstaff Public Library and East Flagstaff Community Library have released their calendar of events for the month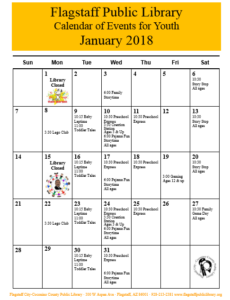 of January!
At the downtown location, enjoy events such as:
Creation Station, Wednesdays 3:30-4:30 in the Community Room. Ages 3 & up!. The first one is January 10th!
Family Game Day, Saturday January 27, 2018 10:30 – 12
Gaming @ Your Library, Fridays 2018 3 – 4:30pm (ages 12 – 18). The first one is January 19th!
Lego Club, Mondays 2018 3:30pm – 4:30pm (ages 5 – 12). The first one is January 8th!
and more!
At the East location, enjoy activities such as:
Crafty Corner
Toddler Tales
Stitching by the Books
and more!
Follow the links above to learn more about the individual programs, and click on the picture to the right to see the full calendar of events for both libraries!