"How local law enforcement & community behavioral health agencies work together"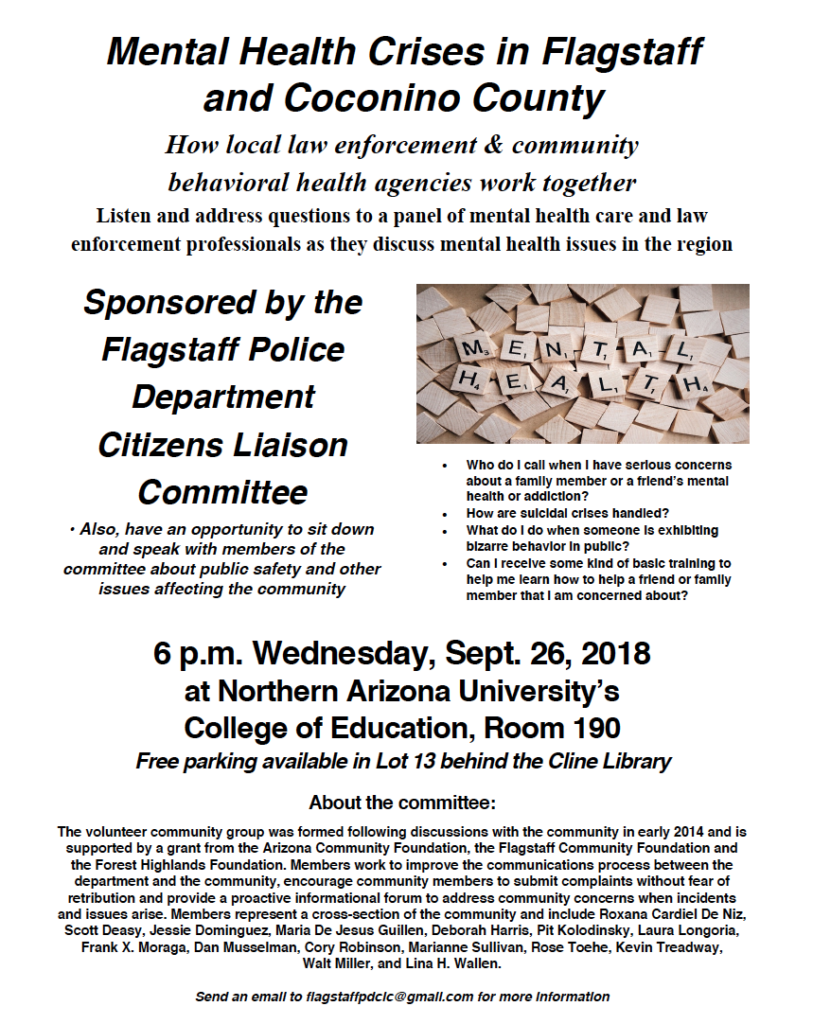 FLAGSTAFF — Community members often are faced with the following questions: "Who do I call when I have serious concerns about a family member or a friend's mental health or addiction? How are suicidal crises handled? What do I do when someone is exhibiting bizarre behavior in public? Can I receive some kind of basic training to help me learn how to help a friend or family member that I am concerned about?"
To help the public deal with these and other issues, the Flagstaff Police Dept.'s Citizens Liaison Committee (FPDCLC) will present a public meeting on "Mental Health Crises in Flagstaff and Coconino County: How local law enforcement & community behavioral health agencies work together" from 6 to 8 p.m. Wednesday, Sept. 26 at Northern Arizona University.
The panel of mental health care and law enforcement professionals include representatives from Flagstaff Medical Center 's Behavioral Health, the Flagstaff Police Department, The Guidance Center's Crisis Unit, Health Choice Integrated Care, Native Americans for Community Action (NACA), NAU Counseling Services and NAU Police Dept., Terros Health, Southwest Behavioral Health & Services and other agencies.
Panelists will discuss various options and opportunities when dealing with mental health issues in Flagstaff and elsewhere in Coconino County, and will respond to questions as well.
The event is presented by the FPDCLC, the NAU Educational Psychology Dept. and the NAU Beta Alpha Chapter of Chi Sigma Iota. The entire community is invited to be a part of this important meeting. Light refreshments will be provided.
The meeting will be held at the NAU College of Education, Room 190, with FREE parking available in Lot No. 13 behind the Cline Library at NAU. NAU students will be outside to hand out parking passes.
For more information on the FPDCLC • Visit: www.flagstaff.az.gov/422/Police-Department