CCC&Y is proud to announce being part of FIAT, Flagstaff Initiative against Trafficking!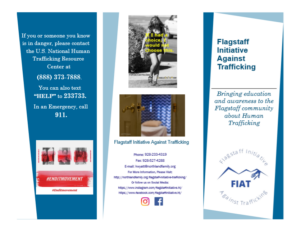 What is FIAT?
Flagstaff Initiative Against Trafficking (FIAT) is a community collective of professional service providers and volunteers who want to end Human Trafficking.
Goals:
Construct a unified response for trafficking victims and survivors to get out of the life safely
Educate and to being awareness to our community on human trafficking in order to drive down demands
Collect data to determine the true impact of Human Trafficking in Flagstaff
What should you do if you suspect Human Trafficking?
To report a tip, call the National Human Trafficking Hotline at 1-888-373-7888 or the non-emergency Law Enforcement line at 928-774-1414. For law enforcement to open an investigation on your tip, they need "actionable information," and as many details as you can provide. Specific information that is helpful when reporting to the hotline would include: descriptions of cars and people (if it is safe to take a picture, do so), specific times and dates, and address and location where suspicious activity took place.
Red Flags
Seems anxious, fearful, or paranoid. Avoids eye contact
Tearfulness or signs of depression
Appear to be in a relationship with someone who is dominating
Never is alone and/or always has someone translating or answering questions on their behalf
Has no identification such as a license, passport, or other ID documents
Marks indicating "ownership" (tattoos) – typically seen on the neck, shoulder, or back (crown, dollar signs, name, lips, playing cards)
Inappropriately dressed for current conditions
People coming/going from a park, residence or business at unusual times
Demand Reduction: Actions taken to deter people in our community from purchasing sex
Operation Cross Country, which is put on by the FBI, occurred in October 2017. During this, 3 adult females were identified as being trafficking victims in our community and were provided information and resources to help them get out of "the life."
Flagstaff Police Department held a sting operation in March where 8 men were arrested for child sex trafficking
To learn more about Flagstaff Initiative against Trafficking, follow the links throughout this post, and click on the picture on the right!
If you or someone you know is in danger, please contact the U.S. National Human Trafficking Resource Center at (888) 373-7888. You can also text "HELP" to 233733. In an emergency, call 911.