Presented by Flagstaff Hullabaloo, LLC at Wheeler Park, Flagstaff AZ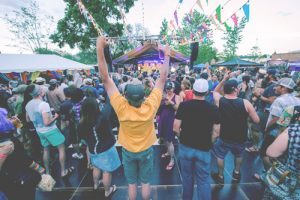 On Saturday and Sunday June 2nd and 3rd the Ninth Annual Flagstaff Hullabaloo returns to Wheeler Park in downtown Flagstaff, AZ. Hullabaloo is a community festival and a celebration of summertime. Hullabaloo has been voted "Best Annual Event or Festival" six times by Arizona Daily Sun and Flagstaff Live readers. Flagstaff Hullabaloo has raised over $96,500 for local non-profits since 2010. This festival will raise funds for Northland Family Help Center, Flagstaff Shelter Services, and Big Brothers Big Sisters of Flagstaff.
The Hullabaloo will kick off with the Orange Theory Fitness bike parade which stages at 9am and departs at 9:30am on Saturday June 2nd. There will be a huge kids area and bungee trampolines, face painting, and much more. Live music from national, regional and local artists will include festival favorite Nicki Bluhm, Latin, funk, and reggae from San Diego's B-Side Players, gypsy-punk from California group Diego's Umbrella, Tucson cumbia masters Vox Urbana, east-coast funk band Stig, Verde Valley reggae from Kieth Okie & Rebel Sol, wild 80's covers by Sedona's The Naughty Bits!, haunting folk-rock from FLG's Tow'rs, Americana by FLG's Viola & the Brakemen, and bluegrass from FLG's Heartwood as well as a second stage featuring one-of-a-kind performances from Circus Bacchus, Suzuki Strings, Theatrikids, and Sambatuque. Prescott-based Living Folklore will provide giant puppets, stilt-walkers, clowns and children's parades. Flagstaff's Lumberyard Brewing and Phoenix's Four Peaks are the official beer sponsors and great food will be available from some of our best local restaurants including Fratelli Pizza and Arizona Roasting Company. There will be costume contests hosted by Bookmans with great prizes going to the best costumes.
The event is free to the first 250 people with two cans of food to benefit Flagstaff Family Food Center and $8 thereafter. Advanced tickets are available for only $5. VIP tickets are available ($85 two-day pass/$60 Saturday/ $50 Sunday) and include a private entrance, a wonderful tented area with seating and a great view of the stage, four drink tokens per day, tastings from Biffs Bagels, Twin Arrows, Bigfoot BBQ and more, a VIP bar, on-site masseuses, and VIP bathrooms.
When:
Jun 2, 2018 at 10:00 am – 09:00 pm (Sat)
Jun 3, 2018 at 11:00 am – 06:00 pm (Sun)
Where: Wheeler Park
212 West Aspen Avenue
Flagstaff, AZ 86001