Circles of Care Project, in collaboration with Flagstaff School District, Indian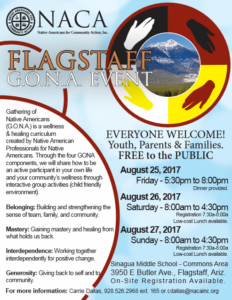 Education are hosting the Flagstaff Gathering Of Native Americans (G.O.N.A.) Community Event on August 25th, 26th and 27th, at Sinagua Middle School, Commons Area.  This is a child friendly environment.  Friday evening, is a community feast starting at 5:30 to 6:00 pm.  Low Cost lunches will be available, Saturday & Sunday by local youth groups, who are raising funds for their projects.
G.O.N.A. is a wellness and healing curriculum created by Native American Professionals for Native Americans. Through the four GONA components, we will share how to be an active participant in your own life and your community's wellness through group activities in a child friendly environment.
The  4 components are:
Belonging – Building and strengthening the sense of family and community.
Mastery – Gaining mastery and healing from what holds us back.
Interdependence – Working together for positive change.
Generosity – Giving back to self and community.
For more information: Carrie Dallas – (928) 526-2968 ext 165, cdallas@nacainc.org
Registration is on-site, Saturday 7:30- 8:00 am and Sunday 7:30 – 8:00 am
Category: Educational Opportunities, Events, General