Coconino Coalition for Children & Youth's Early Childhood Fair on Sept. 28 is included in festival's passport.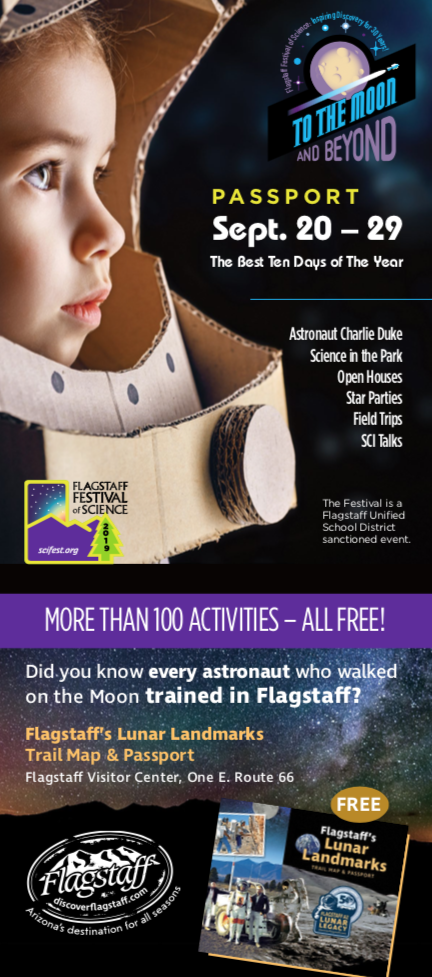 FLAGSTAFF — The Flagstaff Festival of Science continues through Sunday, Sept. 29 with a variety of events through the region.
Some of the events include:
Roving on Mars
Ken Herkenhoff, Ph.D., USGS
5 – 6 p.m. Wednesday, Sept. 25.
Lowell Observatory
With the recent loss of Opportunity, only the Mars Science Laboratory ventures on. Hear about these missions and plans for the next Mars rover!
Build Your Own Wind- Powered Vehicle
4 – 5 p.m. Thursday, Sept. 26.
Coconino Community College Fourth Street Campus
Build and take home your own wind-powered vehicle from the construction shop! Come early for the open house at 3 p.m. Reservations required, melinda. mckinney@coconino.edu. For grades K – 6.
Pioneer Museum
Open House
3 – 5 p.m. Friday, Sept. 27.
Pioneer Museum
See the iron lung, learn about medical history, explore the science of blacksmithing and candle dipping, and check out the newest exhibit, Resilience: Women in Flagstaff's Past and Present.
Full STEAM Ahead
10 a.m. – 1 p.m. Saturday, Sept. 28.
Flagstaff High School
Join the Coconino Coalition for Children & Youth for the 9th annual Early Childhood Fair:
Full STEAM Ahead with hands-on activities, movement, resources andhealthysnacks. Ages 0-8.
The Arboretum at
Flagstaff Fall Open House
9 a.m. – Noon Sunday, Sept. 29.
Bring the family for hands-on activities, educational exhibits, guided tours, hiking trails and fun in the forest!
CLICK HERE for more information about the Flagstaff Festival of Science
CLICK HERE for your Flagstaff Festival of Science Passport of events
Category: Education, Educational Opportunities, Events