[slideshow_deploy id='15601']
By CCC&Y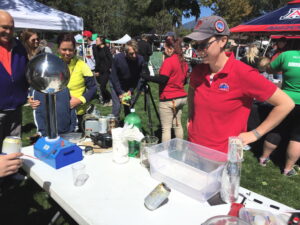 From a peek at the Sun through a solar telescope to an upclose look at fruit flies through a microscope, a game of magnetic basketball, science experiments with hot and cold water and a climb onboard some heavy equipment — the Flagstaff Festival of Science's "Festival in the Park" had a number of opportunities to entertain and educate youngsters and their families on Saturday, Sept. 23, 2017.
The festival continues with a number of programs and venues throughout Flagstaff.
Click here for the entire program of remaining events.
Please see related stories:
Category: General