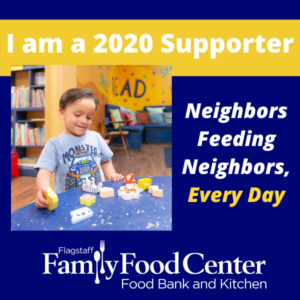 By the Flagstaff Family Food Center
PT Temporary Positions: Food Distribution
Part-time, depending on community needs. Approximately 15-30 hours/week. Multiple positions available.
Job Description
To meet the increased community needs during the COVID-19 crisis and to ensure the health and safety of our volunteers, staff, and community members, we are hiring multiple temporary PT/FT positions to help our food distribution programs run smoothly and safely during this time.
Responsibilities include, but are not limited to:
Assist with our Emergency Food Box Distribution, produce packing, meal prep, dinner service, and other programs, as necesssary.
Maintain best hygiene practices and safety protocols, as recommended by the CDC and state and local health officials.
Must treat everyone with respect and dignity. Remain professional. Remember you are a representative for the Flagstaff Family Food Center while at the food center and during pick ups.
Other duties as assigned.
Qualifications & Requirements:
Minimum of a High School diploma or equivalent is required.
Must have the ability to exercise discretion and independent judgment to accomplish the goals and objectives of the FFFC.
Be able to lift and/or move up to 30 pounds.
Must be 21 years or older.
To Apply:
Please pick up an application at 3805 E. Huntington Dr. Monday through Friday from 8am – 4pm . You can also download the application at www.hotfood.org/about/job-opportunities and and here drop it off at 3805 E. Huntington or email a completed copy to carrie@hotfood.org.