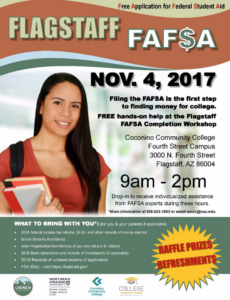 In partnership with LAUNCH Flagstaff, the Northern Arizona College Resource Center will be hosting a community wide FAFSA completion event at the 4th Street CCC Campus on November 4th.
Filing the FAFSA is the first step
to finding money for college.
Get FREE hands-on help at the Flagstaff FAFSA Completion Workshop
Drop-in to receive individualized assistance from FAFSA experts during these hours.
*More information at 928-523-1803 or email nacrc@nau.edu.
Food, Refreshments, Raffle Prizes (a grand prize of a GoPro Hero Session camera) if you come!
WHAT TO BRING WITH YOU*: (for you & your parents if applicable)
2016 federal income tax returns, W-2s, and other records of money earned.
Social Security Number(s)
Alien Registration Numbers(s) (if you are not a U.S. citizen)
2016 Bank statements and records of investments (if applicable)
2016 Records of untaxed income (if applicable)
FSA ID(s) – visit https://fsaid.ed.gov/
…Read the full article HERE
Please see related stories:
Category: Education