Children's Action Alliance Newsletter: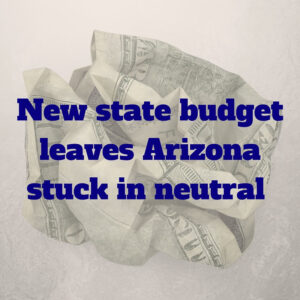 Governor Ducey signed the new state budget. It pretty much leaves Arizona stuck in neutral.  It does not rebuild any of the major pieces of the budget that were destroyed during the Great Recession. For K-12 education, it delays new cuts but has no new investments in sustaining teachers or repairing crumbling school facilities or updating classroom textbooks or technology. The education budget relies on Proposition 123 for inflation funding, so if voters reject that proposal next week, there will be a large hole in the K-12 budget. Click here for a quick overview of budget highlights.
The budget uses one-time funding balances for one-time expenditures, including $86 million in one-time state and local transportation projects and re-paying $232 million in accounting gimmicks that were used to balance the budget in the past.The major new investment is $23 million for the Governor's Border Strike Task Force in the Department of Public Safety.
State lawmakers did a great job with the budget for the Department of Child Safety. It prioritizes prevention and in-home services to reduce the growth in foster care. It includes increased funding to handle the backlog of cases of abuse and neglect and to serve the growing number of children. It also includes new accountability measures so that resources are spent to strengthen child safety.
But there is danger for kids in this budget. On top of 25 years of permanent tax cuts, the budget package adds more than $26 million in new, permanent, ongoing   special interest tax cuts – many of which will grow over time. There is no evidence that any of these tax cuts will create a single job. But they will keep revenues down and make it much harder to create a sustainable plan for education funding.
Click here for a summary of what's in the budget and what's missing for each state agency.
Category: Child Welfare, General, Resources