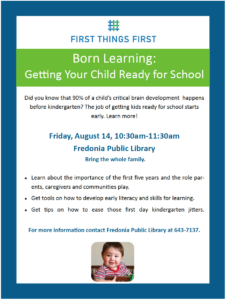 FREDONIA — First Things First will present "Born Learning: Getting Your Child Ready for School" from 10:30 to 11:30 a.m. Friday, Aug. 14 at the Fredonia Public Library, 25 N. Main St., Fredonia.
Did you know that 90% of a child's critical brain development happens before kindergarten? The job of getting kids ready for school starts early. Learn more! Bring the whole family.
Learn about the importance of the first five years and the role parents, caregivers and communities play.
Get tools on how to develop early literacy and skills for learning.
Get tips on how to ease those first day kindergarten jitters.
For more information, contact the Fredonia Public Library at (928) 643-7137.