Today, Harvard University recognized First Things First's (FTF) tiered governance structure as an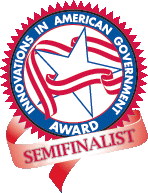 innovation in government that has significant impact on improving outcomes for young children.
FTF was named as a Semifinalist in this year's Innovations in American Government Awards competition. FTF has a chance to become a finalist and compete for a $100,000 grand prize in Cambridge this spring.
FTF's application centered on an innovative citizen led and tiered governance structure that engages Arizonans as volunteer leaders in ensuring that Arizona's early childhood funds are invested in strategies that improve outcomes for young children statewide, while honoring local needs and priorities.
In a press release issued earlier today, Board Chair Nadine Mathis Basha said FTF is proud to have its unique tiered governance structure recognized as an example of what can be achieved when government and communities work together to improve the lives of citizens.
Visit the FTF website to learn more about our Board and regional councils, and to hear in their own words why they choose to serve young children.
CLICK HERE or on the image to read the full article on FTF's website.