View this email in your browser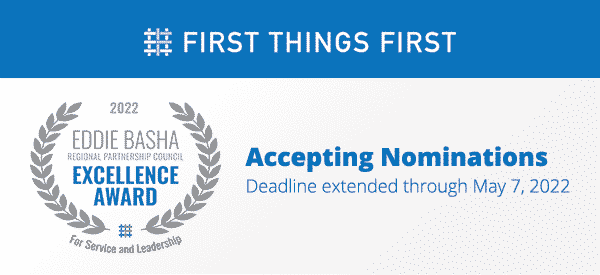 The deadline for nominations has been extended to Friday, May 7. You still have time to recognize the extraordinary work being done on behalf of young children and families in Arizona communities by submitting a nomination for the Eddie Basha Regional Partnership Council Excellence Award.
The award recognizes a First Things First regional partnership council for exemplary performance in inspiring its local community to come together and promote positive and lasting change on behalf of young children, thereby enriching all of Arizona.
Any of the 28 First Things First regional partnership councils may be nominated by a member of the public, and regional partnership council members may nominate other regional councils or their own.
The award is named in honor of Eddie Basha, an iconic Arizona businessman, humanitarian and staunch advocate for public education who spent his life championing children and the communities that nurture them.
Visit our site for more information about Eddie, the award, and to submit a nomination.
Nominations are being accepted through May 7, 2022.
Cindi Alva
Interim Chief Regional Officer
Copyright © 2021 First Things First Early Childhood Summit, All rights reserved.
Category: Education, Educational Opportunities, Programs, Resources