FLAGSTAFF — First Things First recognizes Kathy Farretta as a 2019 First Things First Champion for Young Children.
The award is given to local champions who actively volunteer their time to raise public awareness of the importance of early childhood development and health. Champions spend a significant amount of time volunteering with FTF and building public awareness about the importance of early childhood issues.
Farretta, who lives in Flagstaff, has volunteered with First Things First to raise awareness of the importance of early childhood education in the community. She was recently recognized at the May FTF Coconino Regional Council meeting.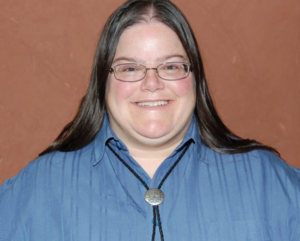 "Anyone can make a difference because most people do not realize how much babies and small children are learning, so get involved by simply talking to childen," Farretta said. "Or, if you have the time, read to children, take them on hikes, borrow a child, volunteer at a museum or library, become a Big Brother/Big Sister or an adopted grandparent. There are so many ways to get involved that will suit your abilities and interests. On top of making a stronger community, you will also receive baby and little kid giggles, laughs, smiles and hugs."
Farretta said she is passionate about the value of fostering early childhood development and works to bring more awareness and opportunity whenever she has the chance. As a board member for the annual Flagstaff Festival of Science, she began working with the early childhood educator community to include more early childhood programming into the festival. This past year, the Early Childhood STEAM Fair asked to become a part of the festival and had strong attendance.
Farretta also spreads the importance of early childhood through the Coconino County Adult Probation Department, where she works as support staff. In order to support Coconino County's Collective Impact project to prevent intergenerational incarceration, Farretta set up an early childhood training with the County's adult probation officers, who she knows have clients who who care for young children and have the goal of being a better parent. Thetraining provided the probation officers with ways to support strengthening their families.
For more information about Farretta and your local regional council partnership please visit:
http://www.firstthingsfirst.org/regions/find-your-region and click on Coconino.
About First Things First– First Things First is a voter-created, statewide organization that funds early education and health programs to help kids be successful once they enter kindergarten. Decisions about how those funds are spent are made by local councils staffed by community volunteers. To learn more, visit FirstThingsFirst.org
Category: Child Welfare, Programs