On February 11th, 2017, Phoenix Indian Center is hosting an upcoming Youth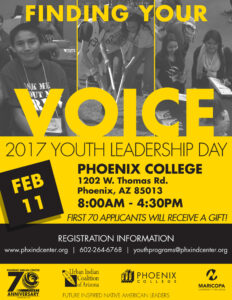 Leadership Day Conference for all high school students around the state. The goal is providing information, strategies, and leadership experiences for high school youth in: college readiness, career readiness, prevention, cultural experiences, and to make connections.
The opportunities that this event opens the door for students to start thinking of their secondary schooling opportunities and to motivate their interest of picking out a career that best suits them (community college, university, trade school, arts, etc). This is a one-day event. Only refreshments and lunch will be provided by Phoenix Indian Center.
CLICK HERE for the registration form.