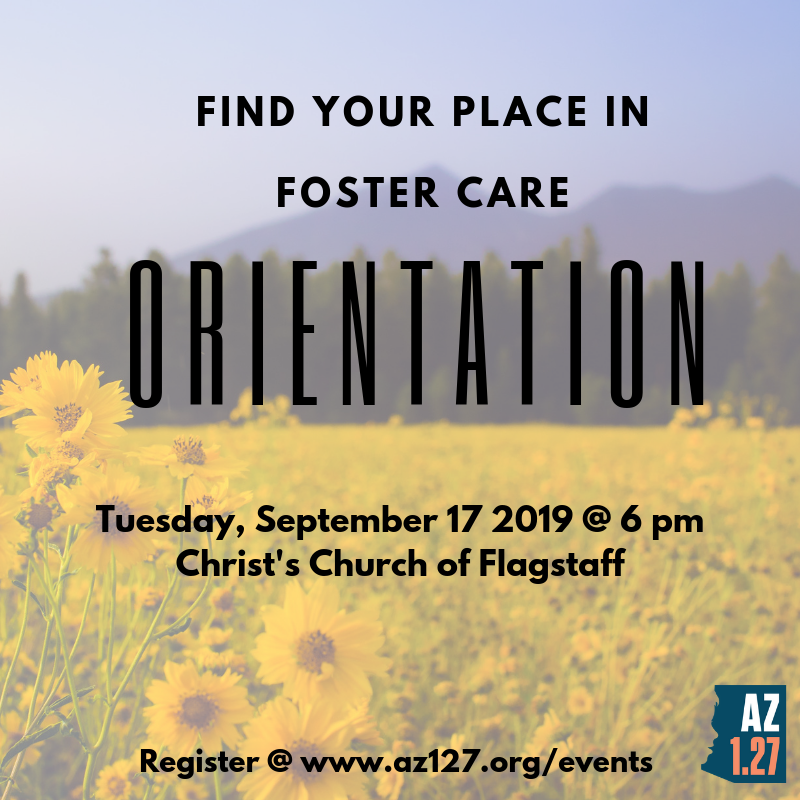 By AZ1.27
FLAGSTAFF — We are looking forward to a great Az1.27 Orientation : Find Your Place in Foster Care at Christ Church of Flagstaff on Tuesday, September 17 from 6-8:30 pm!
Promotion tools
This event is live on our calendar (www.az127.org/events) We will also promote through social media.
Here is the link to the Facebook event : https://www.facebook.com/events/637259896746323/?ti=ia
There is an image you can use on social media attached to this email if that is helpful. If you need any specific sizes for your graphic needs, please let us know so can get them to you!
Below is the registration link – this link is live:
Here are the details:
Time: 6 pm – 8:30 pm
AZ 127 Contact: Kailey Jensen
Presenting : Vince Garvey & Kailey Jensen
Let me know if you have any questions or needs to help share this with people that would be interested in learning more about how to engage in caring for vulnerable children and families in our community.
Category: Child Welfare, Education, Educational Opportunities, Events, Programs, Resources