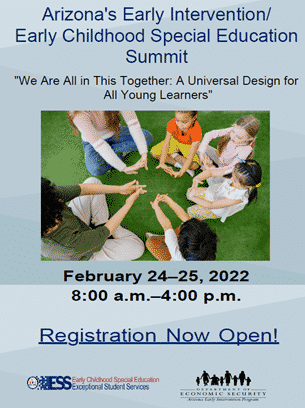 By Arizona Early Intervention Program
We are excited to announce that registration has opened for the Early Intervention and Early Childhood Special Education Summit! This year's theme is "We Are All in This Together: A Universal Design for All Learners". The Summit is going to be on Thursday and Friday, February 24 and 25, 2022 and will be a virtual event. We are looking for engaging and interactive vendor presentations to showcase products and services during lunch and break sessions during the conference. We are looking for products and information to support:
| | | | |
| --- | --- | --- | --- |
| Improving Child Outcome data through systems of observations, collection of evidence, analysis of change | Improving access and participation for children in their natural environment and LRE | Using multiple sources of income to fund preschool programs | Transitions from Early Intervention to Preschool or from Preschool to Kindergarten |
| Examples of Child Find Systems of effective screening, assessment, evaluation and eligibility determinations | Evidence based practices used to increase communication, behavior or cognitive skills | Supports leading to reductions in challenging behavior | Instructional practices leading to improved outcomes |
| Involving families in the programming decisions of preschool and child care | Delivery of related services in regular early childhood programs | Use of Pyramid Model practices to improve supports and services in early childhood programs | Use of data to inform instructional practices |
If you're interested in presenting as a vendor or an exhibitor at the Early Intervention and Early Childhood Special Education Summit, we would love to review your proposal! Consider showcasing your products or services* and apply by clicking the link below:
https://docs.google.com/forms/d/e/1FAIpQLSf6DngddhHoMUDJLThaPMoxtZDCSeBqR7wFyZRGca_vD5Vw9w/viewform?usp=sf_link
*When you are a chosen as a vendor/exhibitor you will attend the conference only at the time are presenting your product or initiative. We look forward to hearing from you!