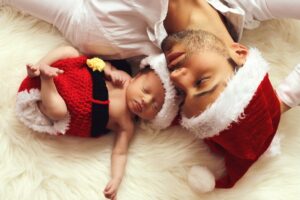 The joy and blessings of a new baby bring special meaning to the holiday season. But, along with feelings of great joy and wonder, there can also be uncertainty and increased stress for new parents. Left untreated the extra stress can lead to depression, anxiety, aggression and impulsiveness.
Flagstaff Medical Center's HealthySteps Program has been awarded a grant from the Arizona Community Foundation's "It Shouldn't Hurt to Be A Child" license plate fund. The focus of this Child Abuse Prevention Grant is  to provide parenting education, tips and techniques to help reduce stress, and to identify and provide support for new moms and dads experiencing postpartum depression.
Help is available for all new parents, with special emphasis being given to creating support for dads. A Free support group "For Every Dad" will be meeting on the 1st and 3rd Tuesdays of each month, starting December 4th at 7:00 pm. There are also Free individual and couples counseling sessions for our families suffering from depression.
If you know of a family who can use extra support, or for more information, please call the HealthySteps Warm Line at 928-213-6389.