Presented by Willow Bend Environmental Education Center at Willow Bend Environmental Education Center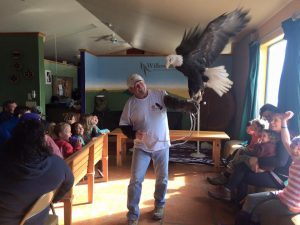 Don't miss the annual eagle celebration! LIVE Bald and Golden Eagles, early morning bird watching tour, educational presentation and more.
This year 4 programs are being offered to fit your schedule. Please visit the website for a detailed listing of each program.
8-10am – "Early Birds" Field Trip (location is *not* at Willow Bend and will be sent via e-mail after you sign up)
10-11am – "Eaglets" Family Presentation
11:30am-12:30pm – "First Flight" Community Presentation 1
1-2:pm – "Fully Fledged" Community Presentation 2
Please note that you can sign up for both the Field Trip and Family Presentation.
ADMISSION INFO
Each program cost = $10/participant, $35/family (2 adults + 3 kids) or FREE for Willow Bend Members
When: Saturday Jan 27, 2018
08:00 am – 02:00 pm
Where: Willow Bend Environmental Education Center
703 E Sawmill Rd
Flagstaff, AZ 86001
Category: Educational Opportunities, Events, Programs