The Native American Cultural Center (NACC) and Native American Student Services (NASS), in partnership with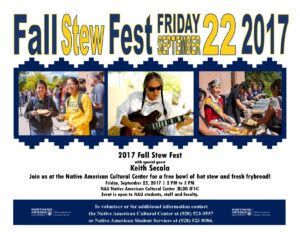 Sodexo, will feature four different stews – mutton, beef, green chili pork, and vegetable; with frybread. The 2017 Fall Stew Fest will feature Native folk & blues rocker, Keith Secola, an accomplished artist: award-winning musician, guitarist and native flute player; singer, songwriter, and producer. Keith Secola is Anishinabe (Ojibwa) originally from the Mesabi Iron Range country of northern Minnesota, now residing in Arizona. He is a member of the Anishinabe Nation of northern Minnesota and southern Ontario, Canada.
The NACC and NASS are also seeking volunteers for the event. If you would like to volunteer for the event, assistance will be needed beginning at 9 am on Friday, September 22, 2017 and go until 7 pm. If you would like to help with setting up, making frybread, serving food, or cleaning up after the event you can contact Shawna Whitehat at Shawna.Whitehat@nau.edu or (928) 523-9648. Shawna will be able to provide with you with the different areas that are open for volunteering.
When: Friday, September 22
2 – 5pm
Where: NAU Native American Cultural Center
Category: Events