Summer may be ending, however, there are several interesting workshop offerings this Fall to look forward to!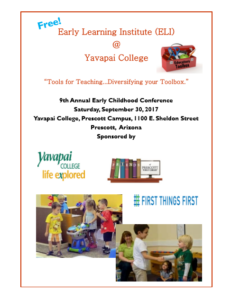 Saturday, Sept 30, 2017–  9th Annual Early Childhood Conference in Prescott 
Thursday, October 19, 2017– A New Look At Leadership: Overview.  This workshop is for child care directors of Northern Arizona.
A Continuous Process of Staff Development"
1 – 4pm
Follow the links to find out more about each workshop!
Category: Educational Opportunities, Events