Before we move full speed into the new year, we invite you to take a look at our 2016 Year in Review and some of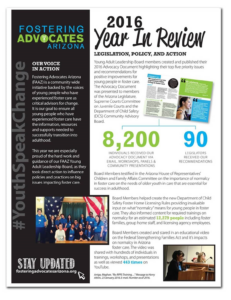 the accomplishments achieved by Fostering Advocates Arizona (FAAZ).
We are proud of the passion, dedication, and collaboration of the FAAZ Young Adult Leadership Board, Community Advisor Board and our community partners; the driving force and passion behind the work.
Among those accomplishments was the development and publication of the FAAZ 2016 Advocacy Document. It highlights the Young Adult Leadership Board's top five priority issues and policy recommendations for improvements in foster care. The Advocacy Document was released at our FAAZ Day at the Legislature and was delivered to all 90 legislators and their legislative staff.
Members of the Young Adult Leadership Board and CAA staff also spoke to more than 1,100 youth, caregivers, judges, attorneys, and Guardian Ad Litems at presentations, workshops, and panel discussions on topics impacting youth in foster care.
Take part in our celebrations by checking out the 2016 Year in Review! With admiration, we thank you for your support and commitment.