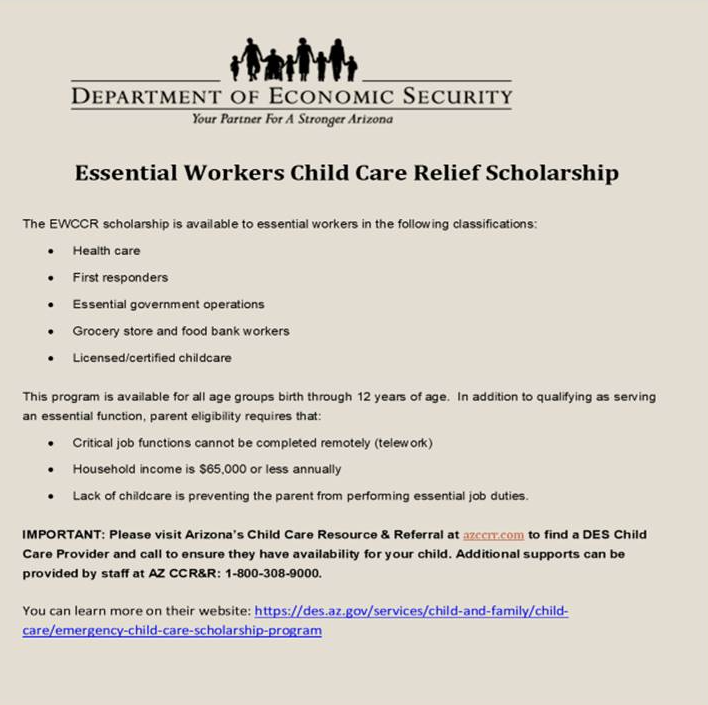 By the Department of Economic Security
Essential Workers Child Care Relief Scholarships will be awarded on a first-come, first-serve basis to eligible applicants, and are dependent upon capacity and resources available.
The EWCCR scholarship is available to essential workers in the following classifications:
Health care
First responders
Essential government operations
Grocery store and food bank workers
Licensed/certified child care
In addition to qualifying as serving an essential function, parent eligibility requires that:
Critical job functions cannot be completed remotely (telework);
Household income is $65,000 or less annually; and
The parent does not have access to child care and/or in person school services, or there is a health or safety concern with the child attending in person school services.
The Essential Workers Child Care Relief Scholarship includes:
Child care scholarships for all age groups birth through 12 years of age.
Child Care through any DES contracted child care provider:

Search Online at azccrr.com; or
Call toll-free: 1-800-308-9000 Monday-Friday 8am-6pm & Saturday 8am-Noon

Parents will not have to pay a copay.
Read the full article HERE
Category: Child Welfare, Health, Programs, Resources