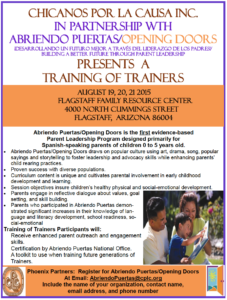 FLAGSTAFF — Chicanos Por La Causa Inc.,in partnership with Abriendo Puertas / Opening Doors and the Helios Foundation, will present A Training of Trainers! program from 9 a.m. to 4 p.m. Wednesday, Aug. 19 through 21 at the Flagstaff Family Resource Center, 4000 N. Cummings St., Flagstaff.
Abriendo Puertas / Opening Doors is the first evidence-based Parent Leadership Program designed primarily for Spanish-speaking parents of children 0 to 5 years old, organizers reported in a media release….
Training of Trainers Participants will: 
Receive enhanced parent outreach and engagement skills.
Certification by Abriendo Puertas National Office.
A toolkit to use when training future generations of Trainers.
…Read the full article HERE
Other recent education stories by AmigosNAZ:
Category: Education