Certification recognizes comprehensive program quality to distinguish STEM schools that meet high standards from other content and service agencies.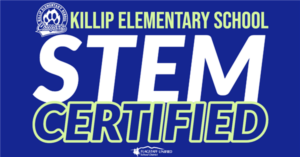 By the Flagstaff Unified School District
The school-improvement, assessment, and certification organization Cognia™, a nonprofit organization, recognizes W.F. Killip Elementary School with Cognia™ STEM Provider Certification.
"The certification is designed to differentiate organizations that simply put a STEM stamp on their materials and marketing and those that have products and services that meet high standards," says Dr. Mark A. Elgart, president and CEO of Cognia. The certification process, Dr. Elgart notes, involves several stages of rigorous internal, external, and on-site review and assessment of performance against standards focused on contributions to the STEM pipeline, STEM learning, connections to real-world applications and community, and program efficacy.
Cognia STEM Provider Certification aims to help school leaders and community stakeholders identify quality providers of STEM programs that:
Promote scientific inquiry and engineering design
Develop skill sets that transfer across career sectors
Bolster students' capacity for critical thinking and perseverance through complex tasks
Engage students deeply in their local community in ways that connect learning to the real world.
… See the full report HERE
See more local education news here:
Category: Education