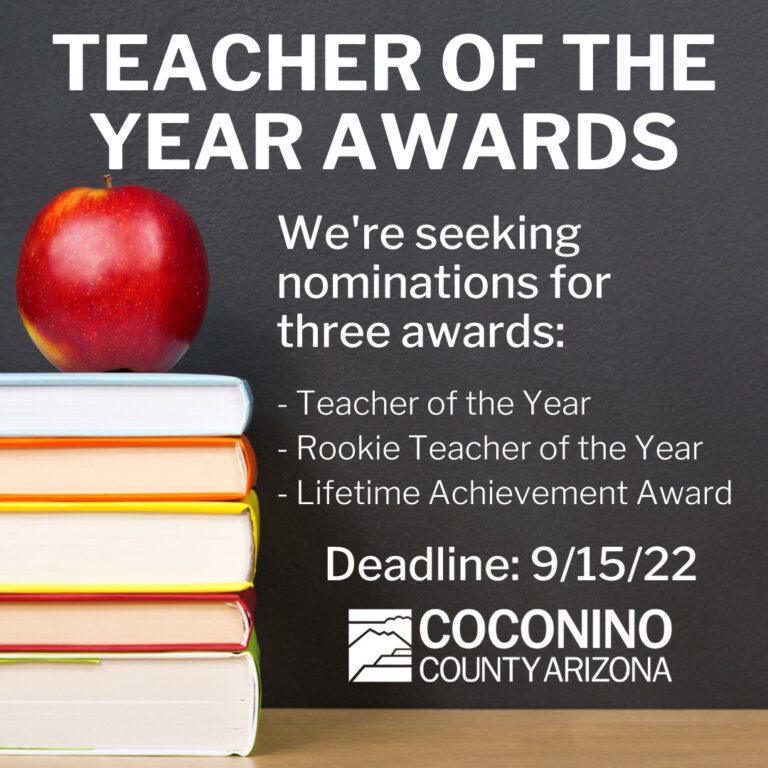 By Coconino County Schools Superintendent
Coconino County — The Superintendent of Schools is requesting nominations for the 10th Annual Teacher of the Year, Fifth Annual Rookie Teacher of the Year, and Second Annual Lifetime Achievement Award. The deadline to nominate a worthy teacher is Sept. 15, 2022.
The awards are a distinguished countywide event created to celebrate, honor, and recognize full-time teachers from pre-kindergarten to 12th grade. Nominating a teacher recognizes them for their hard-work and efforts throughout the academic year.
Nominations are required for consideration for all three award categories. If nominated, teachers submit a detailed essay application with letters of support. A panel of five judges will score the applications using a rubric and discussion to determine the top six candidates in each category. The top six candidates will then be interviewed. Judges will score the interviews with another rubric to determine the three finalists in each category.
To nominate a candidate for any of the three awards, please submit a completed Coconino County Nomination Form. Forms are available at the County Superintendent of Schools' website by visiting https://coconino.az.gov/1863/Celebrate
Click here for the entire story
Please see other local education news:
See more courtesy of the Arizona Education News Service (AZEDNEWS):
Category: Education, Educational Opportunities, Programs, Resources