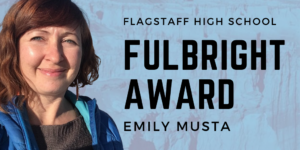 By the Flagstaff Unified School District
Emily Musta of Flagstaff High School in Flagstaff, Arizona has been selected for the Fulbright Distinguished Awards in Teaching Research (Fulbright DA) Program to New Zealand, a program sponsored by the U.S. Department of State and the J. William Fulbright Foreign Scholarship Board.
Musta is one of approximately 22 U.S. citizens who will travel to 10 countries around the world in spring 2021 on the Fulbright DA Program. Recipients of Fulbright grants are selected on the basis of academic and professional achievement, as well as record of service and demonstrated leadership potential.
The Fulbright Program is the flagship international educational exchange program sponsored by the U.S government and was created to increase mutual understanding and build lasting connections between the people of the United States and the people of other countries. The primary source of funding for the Fulbright Program is an annual appropriation made by the U.S. Congress to the U.S. Department of State's Bureau of Educational and Cultural Affairs (ECA). Since its inception in 1946, the Fulbright Program has given over 390,000 passionate and accomplished students, scholars, teachers, artists, and professionals of all backgrounds and fields the opportunity to study, teach and conduct research, exchange ideas, and contribute to finding solutions to important international problems. The global network of Fulbrighters fosters mutual understanding between the United States and partner nations, advances knowledge across communities, and improves lives around the globe.
…Read the full article HERE
See more local education news here:
Category: Education