Dear Reader,
Arizona voters care about the issues that matter most in helping students to succeed.
In fact, a recent survey shows Arizona voters have clear priorities for education, including:
Ensuring we have great teachers and school leaders;
Addressing school funding and teacher pay;
Helping more students improve in reading and math; and
Increasing opportunities for Career and Technical education.
But are these the issues that are talked about during the election season?
Education Forward Arizona—a statewide nonpartisan nonprofit organization whose mission is to advocate for and act on education improvements that advance the quality of life for all Arizonans—created an open sign on letter from Arizona voters asking candidates to prioritize these important education issues.
Join hundreds of Arizonans in signing this letter to ask the candidates to prioritize education!
About Education Forward Arizona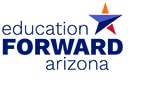 Education Forward Arizona was created to change the way people think about and support education as the key driver to improving the economy and quality of life in Arizona. The organization's work includes providing scholarships and innovative programs to students and advocating for policies and funding that move the Achieve60AZ postsecondary attainment goal and other Arizona Education Progress Meter goals forward. Learn more at EducationForwardArizona.org.
As a 501(c)3 organization, Education Forward Arizona does not endorse candidates or influence the outcome of candidate elections.
Category: Advocacy, Education, Educational Opportunities, Programs, Resources