((The Coconino Coalition for Children & Youth, which previously supported public education funding under the voter-approved Prop. 208, has taken an active role during this Arizona Legislative session in reviewing a variety of proposed educational measures including those that would have a negative impact on Arizona's education system such as: HB 2112, which would prohibit education related to historical trauma and injustices; and SB 1131, the Empowerment Scholarship Accounts expansion bill. CCC&Y does not support voucher or tax credit expansion until public education funding is addressed. Please click here to see our positions during this legislative session.)
To view this email as a web page, go here.

JUNE 14, 2022
Education Forward Arizona conducted a poll of Arizona voters to better understand voters' priorities for education. The survey complements and is intended to go deeper on the findings in the Arizona Voters' Agenda, in coordination with the Center for the Future of Arizona. The survey was conducted May 10-17, 2022 by HighGround Public Affairs on behalf of Education Forward Arizona, a statewide nonprofit and nonpartisan organization.
What we found is that Arizonans deeply care most about the issues that will support good teaching and learning, not the political hot button issues that often get the most attention. Voters want to see candidates discussing key education issues, many of which are aligned with meeting the Arizona Education Progress Meter and Achieve60AZ attainment goals.

Here's what we heard from Arizona
voters: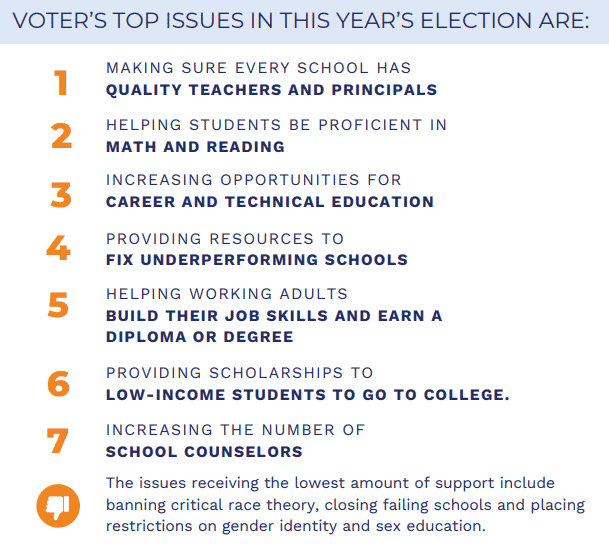 Join Us in Supporting These Priorities
We're calling on candidates to offer solutions to these education issues that matter most to us, our students, and our state.
Add your name TODAY to the growing number of Arizonans telling candidates to Prioritize Arizona Education!

About This Poll
This survey of 500 likely Arizona voters was conducted May 10-17, 2022, by HighGround Public Affairs. It was balanced to model the likely turnout of voters across party, age, region and gender, with a margin of error of ±4.9%.
This work is supported in part by the Helios Education Foundation, Pharos Foundation, Rodel Foundation of Arizona, Thomas R. Brown Family Foundation, and Southern Arizona Leadership Council.
As a 501(c)3 organization, Education Forward Arizona does not endorse candidates or influence the outcome of candidate elections.
EDUCATION FORWARD ARIZONA
Our mission is to advocate for and act on education improvements that advance the quality of life for all Arizonans.
Category: Advocacy, Education, Educational Opportunities, Programs, Resources