The NAz Branch of the American Society of Civil Engineers is sponsoring the world premiere of Dream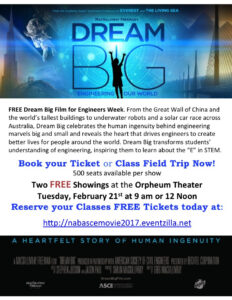 Big at the Orpheum Theater for two showings during E-Week (Engineering Week). Book your seats now as seating is limited! Book your K-8 class here and don't forget to count your chaperones!
FREE Dream Big Film for Engineers Week. From the Great Wall of China and the world's tallest buildings to underwater robots and a solar car race across Australia, Dream Big celebrates the human ingenuity behind engineering marvels big and small and reveals the heart that drives engineers to create better lives for people around the world. Dream Big transforms students' understanding of engineering, inspiring them to learn about the "E" in STEM.
Two FREE showings at the Orpheum Theater Tuesday, February 21st at 9am or 12 Noon.
Category: Education, Educational Opportunities, Events