Seeking Native college students between the ages of 18 and 25. SAIGE is offering a limited number of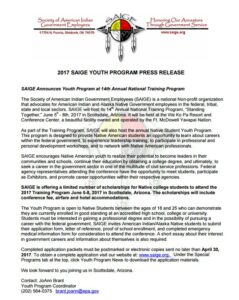 scholarships for Native College Students to attend the 2017 Training Program, June 5-8, 2017 in Scottsdale, Arizona. The scholarships will include conference fee, airfare and hotel accommodations.
The Youth Program is open to Native Students between the ages of 18 and 25 who can demonstrate they are currently enrolled in good standing at an accredited high school, college, or university. Students must be interested in gaining a professional degree and in the possibility of pursuing a career with the federal government. SAIGE invites American Indian/Alaska Native students to submit their application form, letter of reference, proof of school enrollment, and completed emergency medical information form for consideration to attend the conference. A short essay about their interest in government careers and information about themselves is also required.
Completed application packets must be postmarked or electronic copies sent no later and April 30, 2017. To obtain a complete application, visit our website at www.saige.org. Under the Special Programs tab at the top, click Youth Program News to download the application materials.
To find out more, click here or on the picture.