Join us for this informative presentation on Dementia and what happens for patients and families after the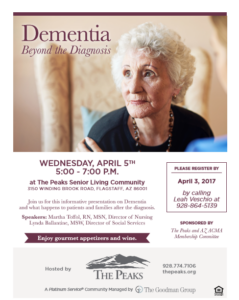 diagnosis. This is open for professionals working with Dementia or wanting to learn about Dementia, including resources available.
Speakers include Martha Toffol, RN, MSN, Director of Nursing and Lynda Ballantine, MSW, Director of Social Services.
When: Wednesday, April 5th
5 – 7 pm
Where: The Peaks Senior Living Community
3150 Winding Brook Road
Flagstaff, AZ 86001
Enjoy gourmet appetizers and wine!
Please register by April 3, 2017 by calling Leah Veschio at (928) 864-5139.
Category: Educational Opportunities, Events, Health, Resources