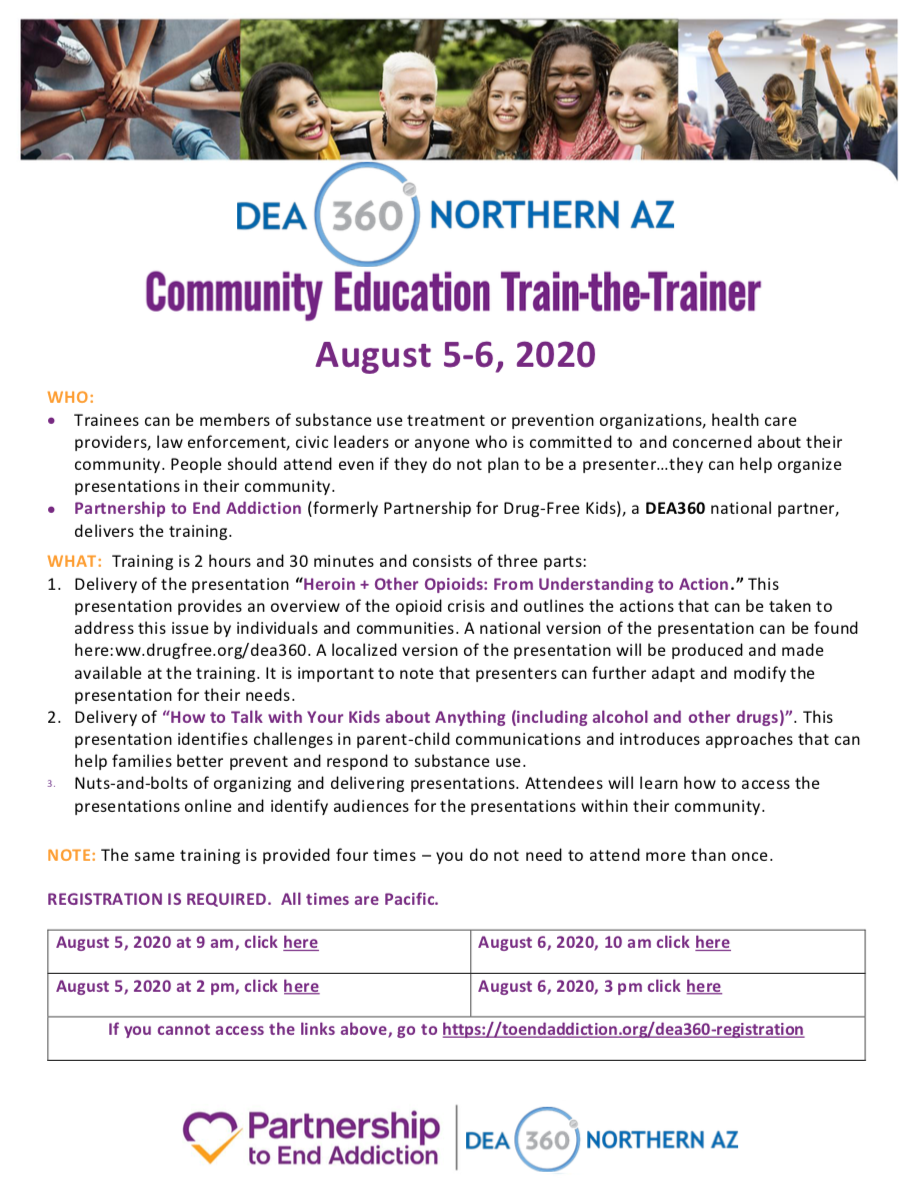 DEA 360 Northern AZ to present Community Educator Train-the-Trainer Aug. 5-6.
Trainees can be members of substance use treatment or prevention organizations, health care providers, law enforcement, civic leaders or anyone who is committed to and concerned about their community. People should attend even if they do not plan to be a presenter…they can help organize presentations in their community.
Partnership to End Addiction (formerly Partnership for Drug-Free Kids), a DEA360 national partner, delivers the training.
WHAT: Training is 2 hours and 30 minutes and consists of three parts:
Delivery of the presentation "Heroin + Other Opioids: From Understanding to Action." Thispresentation provides an overview of the opioid crisis and outlines the actions that can be taken to address this issue by individuals and communities. A national version of the presentation can be found here:ww.drugfree.org/dea360. A localized version of the presentation will be produced and made available at the training. It is important to note that presenters can further adapt and modify the presentation for their needs.
Delivery of "How to Talk with Your Kids about Anything (including alcohol and other drugs)". This presentation identifies challenges in parent-child communications and introduces approaches that can help families better prevent and respond to substance use.
Nuts-and-bolts of organizing and delivering presentations. Attendees will learn how to access the presentations online and identify audiences for the presentations within their community.
NOTE: The same training is provided four times – you do not need to attend more than once. REGISTRATION IS REQUIRED. All times are Pacific.
REGISTRATION IS REQUIRED. All times are Pacific.
If you cannot access the links above, go to
Category: Education, Educational Opportunities, Health, Programs, Resources