Job Posting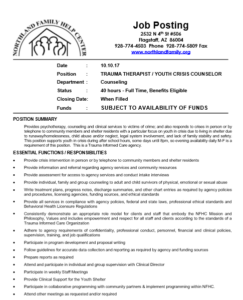 Position: Trauma therapist/youth crisis counselor
Status: 40 hours – Full time, Benefits Eligible
Position Summary: Provides psychotherapy, counseling and clinical services to victims of crime; and also responds to crises in person or by telephone to community members and shelter residents with a particular focus on youth in crisis due to living in shelter due to runaway/homelessness, child abuse and/or neglect, legal system involvement, and lack of family stability and safety. This position supports youth in crisis during after school hours, some days until 8pm, so evening availability daily M-F is a requirement of this position.  This is a Trauma Informed Care agency.
MINIMUM QUALIFICATIONS
Master's degree in Counseling, Psychology, Sociology, or Social Work
Arizona license eligible as a Licensed Associate Counselor, Marriage and Family Therapist, or Licensed Clinical Social Worker.
Experience in individual, family, and/or group counseling
Follow the link here or click on the picture to learn more about this job opening.