We are again asking you to please write a letter to Senator Flake, even if you have already done so.  We need to once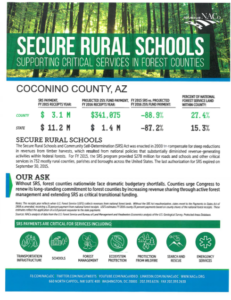 more show our concern for the continued and sustainable funding of Secure Rural Schools.  Attached is a recent letter sent by Chairwoman Archuleta.
​Her letter demonstrates the necessity and importance of receiving these funds.  It will also give you some ideas in writing your own.
Please take a moment in your busy schedule and get a letter off to the Senator and a copy to his Policy Adviser. It doesn't have to be long!  It will show how committed we are to finding a solution and how important these funds are to our County. Here is a sample letter to help get you started.
Jeff Flake
Phone: (202) 224-4521
Phoenix: (602) 840-1891
Tucson: (520) 575-8633
Fax: (202) 228-0515
Internet contact form:  https://www.flake.senate.gov/public/index.cfm/contact-jeff
​Dr. Chuck Podolak Ph. D.
Email: Chuck_Podolak@​flake.senate.gov