It is important to contact Senator Jeff Flake, even if you have already done so, and express thoughts and concerns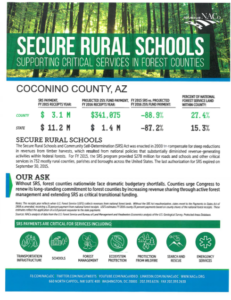 relating to the renewal and sustainability of SRS or Secure Rural Schools. ​Also please send a copy to his Natural Resources Policy Adviser. All of this is important as Senator Flake is a member of the Senate Energy and Natural Resource Committee.
The expiration of SRS will create dramatic budgetary shortfalls if Congress fails to renew this long-standing federal obligation to county governments. Enactment of a sustainable long-term program to share revenues generated from the management of designated federal lands with forest counties and schools will ensure that students receive essential education services and rural communities have critical funding for roads, conservation projects, search and rescue missions and fire prevention programs.
​ ​​Also, SRS is of importance to counties across the nation that contain substantial amounts of federal public and federal forest land within their jurisdictions, as well as the need to implement forest management reform that will provide increased forest revenues to counties and mitigate the risk of wildfires by improving forest health.
​​Provided here is the contact information for Senator Flake along with his Policy Adviser. Also attached is a sample letter than can be used.  Please feel free to personalize in any way you see fit.  Also attached is a fact sheet from Coconino County. It is important that we do this as soon as possible.
​Jeff Flake
Phone: 202-224-4521
Phoenix: 602-840-1891
Tucson: 520-575-8633
Fax: 202-228-0515
Internet contact form:  https://www.flake.senate.gov/public/index.cfm/contact-jeff
​Dr. Chuck Podolak Ph. D.
Email: Chuck_Podolak@​flake.senate.gov
(​Please include your title, name, address and phone number.)