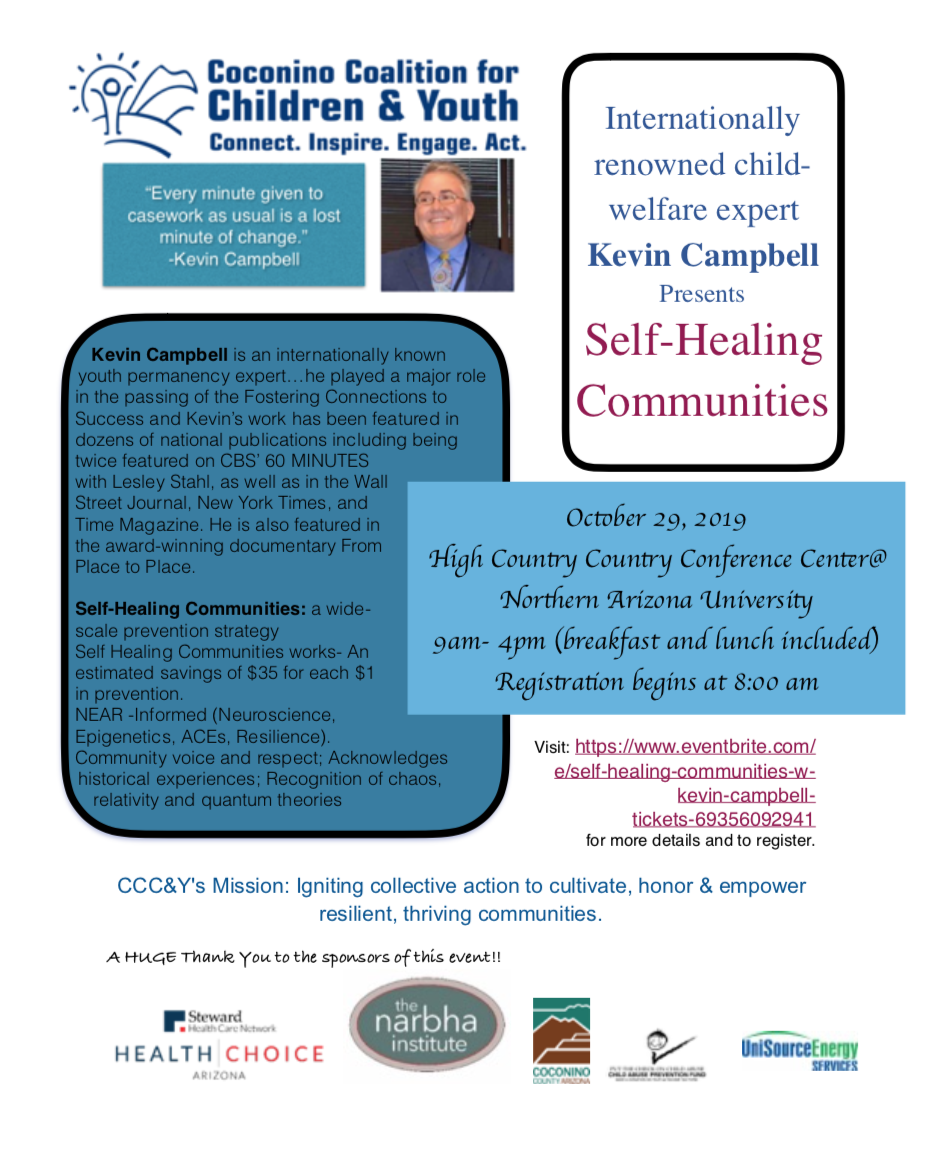 By the Coconino Coalition for Children & Youth
Zoom remote streaming of Kevin Campbell's presentation on "Self-Healing Communities" will be held from 9 a.m. to 4 p.m. at Encompass Behavioral Health Services Building, 463 S. Lake Powell Blvd, Page.
"Self-Healing Communities" will be presented from 9 a.m. to 4 p.m. Tuesday, Oct. 29 at the High Country Conference Center, 201 W. Butler Ave., Flagstaff.
We are excited to announce this has attracted statewide attention including local, state and federal representation as well as a policy analyst, said Virginia Watahomigie, executive director of the Coconino Coalition for Children & Youth.
This day is about acknowledgment and cultural shift in healing. We will be starting with historical recognition of how we got to where we are, examples, colonization, history of casework as usual etc. This is an advocacy specialty of Campbell's and a personal passion for him. It represents a great deal of both his National and International work. We will then move into what can be done now- Self-Healing Communities which is truly important for every org, system and person seeking change.
Campbell is an internationally known youth permanency expert…he played a major role in the passing of the Fostering Connections to Success legislation, and Kevin's work has been featured in dozens of national publications including being twice featured on CBS' 60 MINUTES with Lesley Stahl, as well as in the Wall Street Journal, New York Times, and Time Magazine. He is also featured in the award-winning documentary From Place to Place. For his complete bio, click here
…..And he will be in Arizona for one day to impart……
Self-Healing Communities: A wide-scale prevention strategy
Self Healing Communities works- An estimated savings of $35 for each $1 in prevention
NEAR -Informed (Neuroscience, Epigenetics, ACEs, Resilience)
Community voice and respect; Acknowledges historical experiences
Recognition of chaos, relativity and quantum theories
For more information about self-healing communities, click here
For more information, send an email to virginia@coconinokids.org.
Category: Child Welfare, Education, Educational Opportunities, Events, Programs