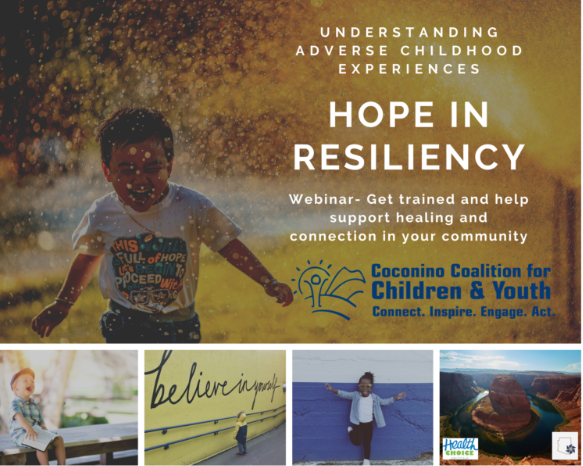 By Virginia Watahomigie • Coconino Coalition for Children & Youth
It is not easy to write this message. I, just like many of you, have found myself filled with many emotions ranging from deep sadness to raw anger. Many of us around the Nation are trying to find our voice, our place- ideas for how we can make a positive impact. CCC&Y has a long history of advocating for and working toward justice and equity for our community.
I was scheduled to present the Adverse Childhood Experiences (ACES) / resiliency training live this week for a school district. I was re-struck, while speaking with these educators, by how relevant the work of CCC&Y is- even during current times. I felt gratitude for this connection and all of you who further this work.
If you have not done so already, I would invite you to visit our webinar on ACES. It will help you to gain personal insight into what happens to people, what we do to people and how society can choose to make trauma worse or better for folks. That insight then becomes sharable.
I will also mention our mindfulness videos right now. One, a mindfulness practice can be so nourishing for individuals- including during times of high stress and despair. My thoughts go out to everyone who is feeling deep emotions both from what was witnessed, as well as, all the personal experiences this might bring up. Two, I believe mindfulness also allows us a quiet moment to find our internal guidance- to seek and gain what we have within.
I know for myself, I am motivated to keep furthering the CCC&Y mission during this time and to stay connected to this amazing, kind, loving group of people who are engaged around this mission. I am not sure how to best close this message other than to send love out to all!
— Virginia Watahomigie
Executive Director
Coconino Coalition for Children & Youth
CCC&Y has created the following webinar web resources:
All the webinars and additional information can be found at: https://coconinokids.org/prevention/
There is no charge for the webinars, but we do ask that you consider sharing with others and completing the survey.
Also, be sure to join CCC&Y'S Family Connection Weekly Zoom Meeting at 3 p.m. Thursdays. The meeting is open to parents, caregivers, professionals — All individuals in our community. REGISTER HERE
Category: Advocacy, Child Welfare, Education, Health, Programs, Resources