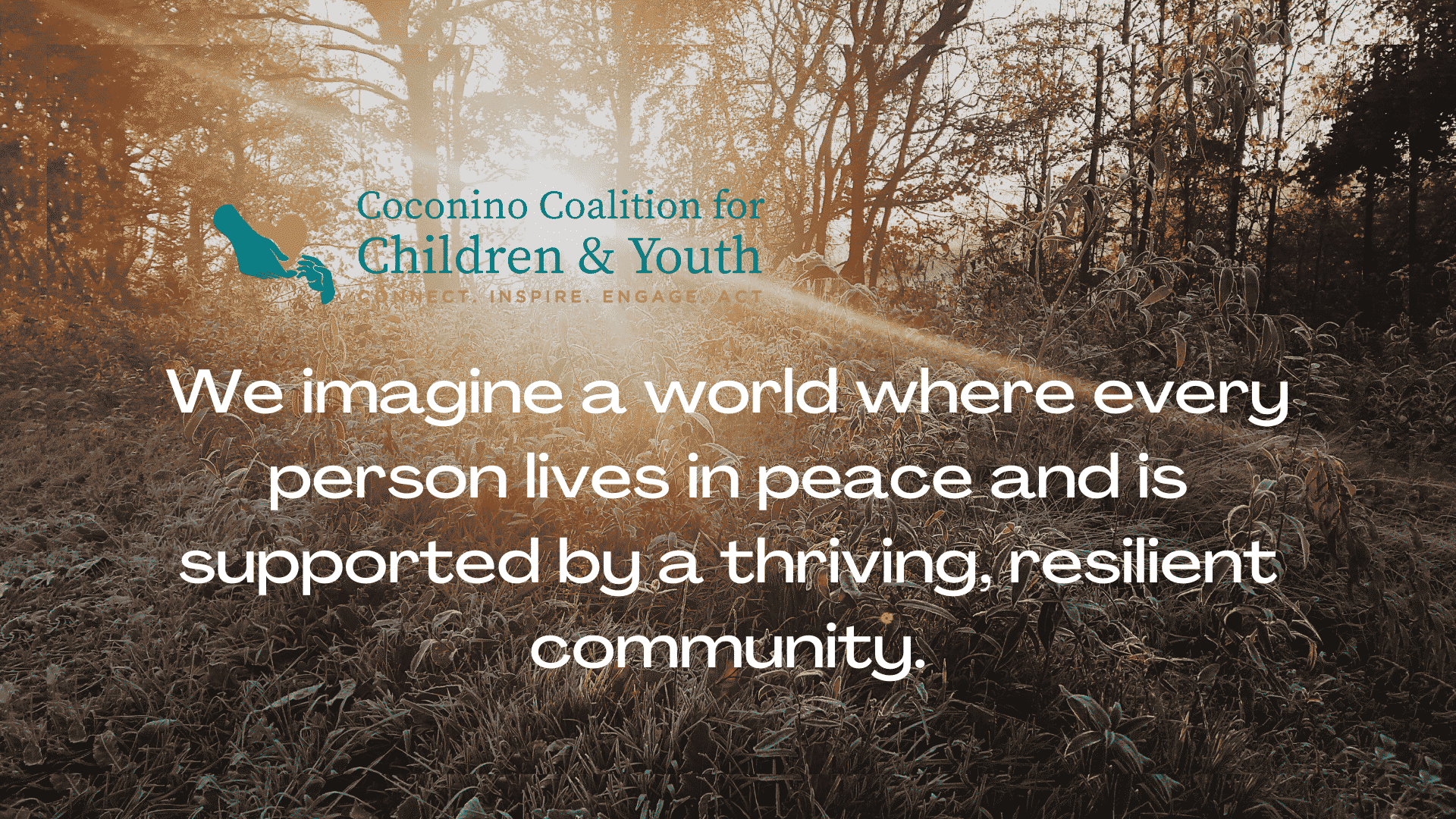 By the Coconino Coalition for Children & Youth
COCONINO COUNTY — 2021 was an exciting growth year for CCC&Y. We entered the year with a refreshed Mission and Purpose, welcomed a new logo, gained new database software and had our first ever virtual conference. We expanded our work with Building Community and renewed our commitment to building connections and support in the community. Click here to learn more. We provided training, data and voice to community organizations and groups on topics ranging from trauma-informed care to mindfulness.
Our Coconino Prevention Council and Action and Outreach committees were active throughout the year with activities ranging from monthly connection for organizations and prevention services to legislative and policy review.
A very exciting moment in 2021 was when we received the Vitalyst Health Foundation Spark Grant to collect community voice about root causes of Health Concerns in the County. To date we have engaged numerous partners, groups and individuals and have collected information from over 65 individuals through five questions we are asking the community. These have taken place in one-to-one interviews and very small focus groups across the county. This process was designed to be trusting and relationship-based so as to gain accurate and pertinent information about individual experiences.
Some brief examples of the type of information we are learning include:
Difficulties with systems that break families apart, put kids in detention and punish people for seeking help.
People giving up on you if you relapse.
Adults not listening, doubting you or getting mad when you share personal problems.
Adults saying you're overreacting, it's "fake depression," gaslighting and there is not enough therapy or shelters.
We are looking forward to more information coming in this month as these types of discussions are completed. Partners will then be planning for our next steps in data collection and community involvement.
It is with excitement that I announce to you that 2022 is the 50-year anniversary of the Coconino Coalition for Children & Youth. I am hopeful we will find ways to celebrate and honor the work and mission of everyone who has touched this work for five decades over the course of this year. I can only hope that the work and growth we do today honors the original commitment and dedication of the founders who made this possible.
To everyone who has supported the work of CCC&Y for 50 years and more, please celebrate together each of the accomplishments of our collective action. As informed and energized community members, we come together to solve problems, impact policy and create solutions that allow every person to realize their full potential.
Category: Advocacy, Education, General, Health, Programs, Resources