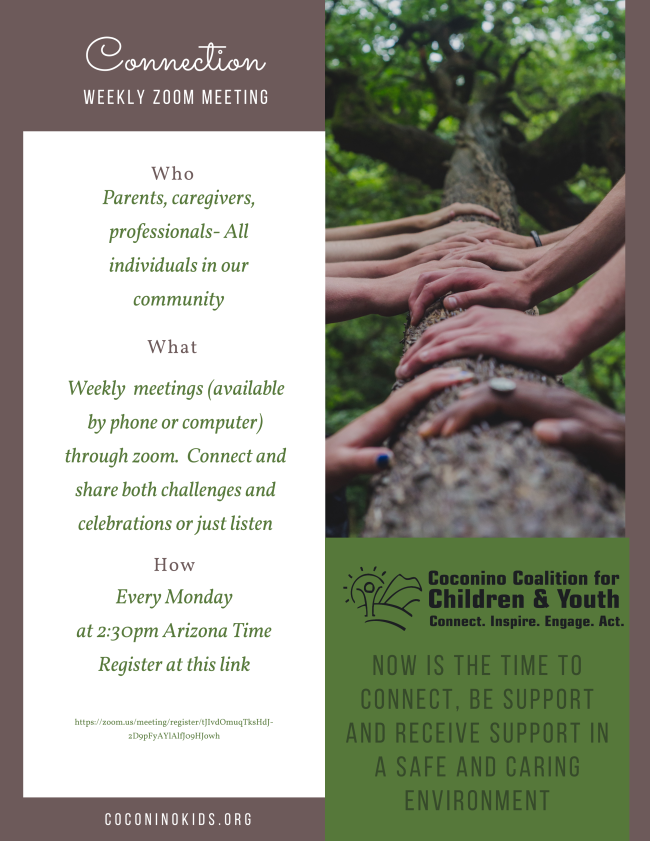 By Rene RedDay, M.E • Coconino Coalition for Children & Youth
"I do it myself"
This common toddler phrase often makes adults sigh. We want to honor our child's autonomy, but we also realize some things are more manageable with a little help. The same is true in adulthood. As a family, we autonomously choose our traditions, routines, and meals. However, raising children and managing family life is complex. Although some family challenges may be unique, many families share common challenges. And, it is certain…we all deserve support!
For example, my grandmother was a single mom of 3 who worked and relied on public transportation. That was hard! My uncle shared he remembers a neighbor hollering out a window to him if he was misbehaving and shouting, "Kevin, I see you. I'll talk with your mom when she gets home." Having this support provided my grandmother some peace of mind. Later, when I was a child, my mother demonstrated communal support. She was a teacher and drove several neighborhood kids to and from school. She brought them to our house each weekday to share snacks and provide supervision until their parents picked them up after work. Ultimately, my mother and grandmother lived "community in action!" They normalized families receiving and giving each other support.
As people, we all need social support. Through expressions of our joy, challenges, and uncertainty, we develop a mutual connection. It is my hope with Building Community, LLC, to "bring back" interdependence as a norm. Some of us may have supportive family and friends close by; others may not. Either way, we all have the option to lean on our broader community for mutual support.
To support families in making new connections, CCCY partners with Building Community to host a virtual, bilingual Family Connection for families via Zoom. Our hope is for families to meet each other, create relationships, and expand our collective social support network. We invite families throughout Coconino County to join us Mondays at 2:30 pm by phone or computer. Parents and community members register HERE.
Invite your friends and family! Grab a cup of tea and take one hour for yourself to connect with other parents and community members! We meet new people during each call, give and receive emotional support, and share requested resources.
If you are an organization, I would love to host an ongoing small group meeting with your families at no cost to your programs.
If you have other ideas for creating or strengthening community interdependence, I'd love to hear them. You can email me at rene@buildingcommunityflagstaff.com or share a comment on Facebook!
We are social beings, and interdependence is worth the effort. No one needs to do it themselves!